Ross Harris - 24 Hour Chess-a-thon for funds for Childrens Chess Club
24 hours of solid chess - is it possible? - to raise funds for the new Childrens Chess Club - Strand Chess Club..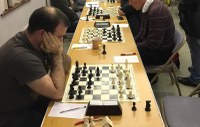 A 24 hour chess-a-thon is being held on the 11th and 12th February as a fund raiser for the Strand Chess Club. Ross Harris will be playing chess non-stop for 24 hours with all proceeds going towards the start up costs and running of this new children's club. You can sponsor Ross on his Just Giving page.
Details on the excellent childrens chess web site : http://childrenschessni.blogspot.co.uk/
*****24 HOURS OF CHESS  -  NO BREAKS*****