Strand return to top
(B&D League 2018/19 Week 5) Strand 1 returned to the top of Division 1 with victory over Ballynafeigh 2, while QUB 2 and 3 continue their winning ways in their respective divisions.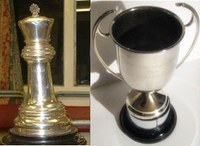 Division 1
Fruithill Hawks 3.5-1.5 Civil Service
Ballynafeigh 2 1.5-3.5 Strand 1
QUB 1's match with Ballynafeigh 1 was postponed, giving Strand 1 a chance to return to top spot in Division 1. They ran out 3.5-1.5 winners, but only just as James Barbour (1192) appeared to have Ross Harris (1698) well and truly beaten - but in the crucial time scramble it was Barbour who blinked first. Civil Service were a player short and lost 3.5-1.5 to the Fruithill Hawks, but Adrian Dornford-Smith (1183) claimed the upset of the week with a fantastic win over Stephen McCann (1748). John Masterson and Ciaran Marron won for the home side.
Division 2
The B Team 1-4 Northern Lights
Bangor 1 1-4 Strand 2
Fruithill Falcons 1-4 QUB 2
QUB 2 maintained their lead in Division 2 with a 4-1 win over the Fruithill Falcons. Daniel Diaz-Roncero Gonzalez defeated Ulster Junior Champion Gatis Barbals on board 1, while Clark Rodriguez and Rian Mellotte also claimed victories. Close behind are Northern Lights, who defeated The B Team by the same score with wins from Nicholas Pilkiewicz, Stephen Wood, John Wood and Martin Donaghy. Cathal Murphy was the sole point-scorer for The B Team, beating Paddy Maguire. Strand 2 were heavy underdogs against Bangor 1, but some excellent performances from Michael Sheerin, James Wong and Adam Rushe, all beating players rated over 200 points above them, secured the win for the Holywood Road side.
Division 3
Ballynafeigh 3 1-4 Fruithill Ravens
Strand 3 4-1 Ballynafeigh 4
Strand 4 2-3 QUB 3
QUB 3 are still in the lead in Division 3 despite being a player short against Strand 4 as Robert Clarke, Conal Boyle and Mohammed Muddassir all won while Ralph Patterson defeated QUB 3 newcomer Sean Donnelly. The Fruithill Ravens are closing in after a 4-1 win over Ballynafeigh 3. The Rosses, Smith and Hume, bossed it for the visitors on boards 4 and 5, while Michael Toal and John Monaghan also claimed full points. Jim Kyle was the sole point-scorer for Ballynafeigh 3, beating Pearse O'Brien. Last but not least, Strand 3 lifted themselves off the foot of Division 3 with a fine win over Ballynafeigh 4.
Standings
| Division 1 | Played | Points | Division 2 | Played | Points | Division 3 | Played | Points |
| --- | --- | --- | --- | --- | --- | --- | --- | --- |
| Strand 1 | 4 | 21.5 | QUB 2 | 5 | 25.5 | QUB 3 | 4 | 23.5 |
| QUB 1 | 3 | 17 | Northern Lights | 5 | 24.5 | Fruithill Ravens | 5 | 22.5 |
| Fruithill Hawks | 4 | 14.5 | Strand 2 | 5 | 18 | Bangor 2 | 3 | 12.5 |
| Kelly's Heroes | 4 | 11 | Bangor 1 | 5 | 17 | Strand 4 | 4 | 12 |
| Civil Service | 5 | 11 | The B Team | 5 | 13 | Ballynafeigh 4 | 4 | 10 |
| Ballynafeigh 1 | 2 | 8.5 | Fruithill Falcons | 5 | 7 | Strand 3 | 4 | 9 |
| Ballynafeigh 2 | 4 | 7.5 | | | | Ballynafeigh 3 | 4 | 8.5 |