Northern Lights stretch Division 2 lead
(B&D League 2018/19 Week 13) Northern Lights go nine points clear in the Strawbridge Cup chase after beating Strand 2 while QUB 2 were beaten by Bangor 1. In Division 1, Ballynafeigh 1 have narrowed the gap slightly on Strand 1.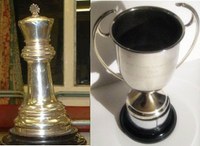 Division 1
Ballynafeigh 1 4-1 Civil Service
Kelly's Heroes 2.5-2.5 Ballynafeigh 2
Strand 1 3-2 QUB 1
Ballynafeigh 1 kept their Silver King hopes alive with a convincing win over Civil Service. The Ormeau Road side were without their regular board 1, three-time Ulster Champion David Houston, but gave away only two draws as Steve Scannell, WFM Karina Kruk and Ian Woodfield all won, while Damien Lavery drew with David Blair and Vincent O'Brien shared the point with Jim McLean. With the arrival of Rasmus Jorgensen (2065) from Denmark and a four-man QUB 1 side as opposition, Strand 1 could have been forgiven for expecting a wide margin of victory to pad their lead, but in the end they barely scraped by with a 3-2 result as Jorgensen and Daniil Zelenchuk were held to draws by Sergio Esteve Sanchez and Callum Ormerod respectively and Calum Leitch was beaten by Daniel Diaz-Roncero Gonzalez. Modestas Razbadauskas' win over Vincent Crean secured the bonus points for the Holywood Road side, but their lead has been cut to 10.5 points. In the week's other match, Kelly's Heroes and Ballynafeigh 2 shared the points. Gareth Annesley and John Bryars won for the home side, while David Ruben drew with John O'Doherty and Chris Kelly pulled one back for the visitors. In the last game to finish, Sam Flanagan looked well-placed to secure the match for Kelly's Heroes as he had Robert Lavery under serious pressure for most of the game, but fell victim to time trouble.
Division 2
Northern Lights 4-1 Strand 2
The B Team 4.5-0.5 Fruithill Falcons
Bangor 1 3.5-1.5 QUB 2
Division 2 leaders Northern Lights were nearly 300-point-per-board favourites against Strand 2, and duly put in a dominant performance to win 4-1. Nicholas Pilkiewicz, Stephen Wood, a returning Des Moreland, and Martin Donaghy proved too strong for the opposition, with Adam Rushe as the sole point-scorer for the Holywood Road side as he beat Bernard McCaughey. Second-placed QUB 2 fell behind with a 3.5-1.5 defeat at the hands of Bangor 1. Wins for Martin Moorcroft, Alan McConnell and Sam Moore ensured the win for the home side, while Robert Clarke (1234) managed a creditable draw with James O'Fee (1638) and Cathan Gormley won for the visitors against Steven Eachus. In the week's other Division 2 match, The B Team easily saw off the Fruithill Falcons.
Division 3
Ballynafeigh 3 1.5-3.5 Bangor 2
In the only Division 3 match to go ahead, Bangor 2 stretched their lead to 14.5 points (although second-placed QUB 3 have two matches in hand) with victory over bottom side Ballynafeigh 3. Tony Redden, Nigel Telford and Gary Johnston all won to bring the bonus points to Groomsport, while Jonny Brown drew with Antonio Curado. The home side's only win was the upset of the week as Robert Brown (675) claimed victory over Alwyn Pollock (890).
Standings
| Division 1 | Played | Points | Division 2 | Played | Points | Division 3 | Played | Points |
| --- | --- | --- | --- | --- | --- | --- | --- | --- |
| Strand 1 | 10 | 55 | Northern Lights | 11 | 57 | Bangor 2 | 11 | 57 |
| Ballynafeigh 1 | 10 | 44.5 | QUB 2 | 11 | 48 | QUB 3 | 9 | 42.5 |
| QUB 1 | 10 | 38 | Strand 2 | 11 | 37 | Fruthill Ravens | 9 | 39 |
| Fruithill Hawks | 9 | 33.5 | Bangor 1 | 11 | 34 | Ballynafeigh 4 | 10 | 35 |
| Kelly's Heroes | 10 | 31.5 | The B Team | 11 | 33 | Strand 3 | 10 | 35 |
| Ballynafeigh 2 | 11 | 24.5 | Fruithill Falcons | 11 | 22 | Strand 4 | 11 | 26.5 |
| Civil Service | 10 | 18 | | | | Ballynafeigh 3 | 12 | 17 |