Storm Gareth blows Ballynafeigh 1 off course as he leads Kelly's Heroes to victory
(B&D League 2018/19 Week 16) In a week where the weather headlines were dominated by Storm Gareth, Kelly's Heroes had a Gareth of their own on board 1 as they dealt a hammer blow to Ballynafeigh 1's Silver King ambitions.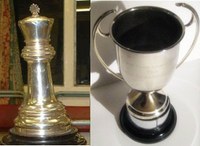 Division 1
Ballynafeigh 1 1-4 Kelly's Heroes
QUB 1 2-3 Civil Service
Strand 1 3-2 Fruithill Hawks
It was an excellent week for league leaders Strand 1 as their rivals all lost ground. Firstly, Ballynafeigh 1 suffered a heavy defeat at the hands of Kelly's Heroes. The home side were without their usual board 1, David Houston, but would still have expected to come away from this match with more than two draws. Gareth Annesley, David Ruben and John McKenna won for the visitors, while Sam Flanagan drew with Damien Lavery and John Bryars drew with Damien Cunningham. The league leaders received further good news as QUB 1 fell to defeat against bottom side Civil Service. Despite fielding only four players, the students went in as favourites, but Adrian Dornford-Smith (1206), on board 4 for the visitors, had other ideas as he beat the provisionally-1600-rated Mohamed Musa. This, together with draws for Danny Roberts against Sergio Esteve Sanchez and Mark Newman against Daniel Diaz-Roncero Gonzalez gave Civil Service a narrow victory. Last but not least, the Fruithill Hawks also only had four players for their visit to Strand 1, and while John Cairns beat the in-form Calum Leitch and Ryszard Kaczorowski and Gatis Barbals took a share of the points in their games, it wasn't enough to stop Strand 1 from increasing their lead to 16.5 points as Modestas Razbadauskas saw off Sean Linton.
Division 2
The B Team 3-2 Northern Lights
Strand 2 3.5-1.5 Bangor 1
Fruithill Falcons 0.5-4.5 QUB 2
With the John Strawbridge Cup already sewn up, Northern Lights fielded an under-strength side who were beaten by The B Team. Despite being a player short, Strand 2 produced an excellent performance to defeat Bangor 1; highlights being a draw for Jake Patterson (1261) against Martin Moorcroft (1609) and a win for Adam Rushe (1112) against Sam Moore (1445). QUB 2 convincingly beat the Fruithill Falcons, with only Ross Smith (1009) managing to avoid defeat for the home side with a draw against Vincent Crean (1259).
Division 3
Ballynafeigh 4 4-1 Ballynafeigh 3
Fruithill Ravens 1.5-3.5 Strand 4
Bangor 2 3.5-1.5 Strand 3
The Fruithill Ravens suffered a major setback as they were beaten by Strand 4 despite being nearly 300-point-per-board favourites. The Holywood Road side produced a fantastic team performance, including an upset of the season contender from Ken Haddock (702) as he beat Michael Toal (1180), while Aaron Wafflart (1034) beat Kevin Agnew (1274) and Stephen Cullen (1054) beat Pearse O'Brien (1418). Bangor 2 extended their lead with a win over Strand 3 while Ballynafeigh 4 came out on top in the Candahar Street derby against Ballynafeigh 3.
Standings
| Division 1 | Played | Points | Division 2 | Played | Points | Division 3 | Played | Points |
| --- | --- | --- | --- | --- | --- | --- | --- | --- |
| Strand 1 | 13 | 67 | Northern Lights (Champions) | 14 | 69 | Bangor 2 | 14 | 73.5 |
| QUB 1 | 13 | 50.5 | QUB 2 | 14 | 55.5 | Fruithill Ravens | 13 | 60.5 |
| Fruithill Hawks | 12 | 48.5 | The B Team | 14 | 48 | QUB 3 | 11 | 48.5 |
| Ballynafeigh 1 | 12 | 47.5 | Strand 2 | 13 | 46 | Ballynafeigh 4 | 14 | 44 |
| Kelly's Heroes | 14 | 45 | Bangor 1 | 13 | 39 | Strand 3 | 12 | 36.5 |
| Ballynafeigh 2 | 13 | 29.5 | Fruithill Falcons | 12 | 22.5 | Strand 4 | 13 | 34 |
| Civil Service | 13 | 27 | | | | Ballynafeigh 3 | 13 | 18 |