Strand gain breathing space as Kelly's Heroes dent Ballynafeigh hopes
(B&D League 2018/19 Week 8) Strand 1 go into the Christmas/New Year break four points ahead as they beat the Fruithill Hawks and Kelly's Heroes claimed an upset victory over Ballynafeigh 1.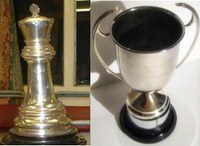 Division 1
Fruithill Hawks 1.5-3.5 Strand 1
Kelly's Heroes 3-2 Ballynafeigh 1
Strand 1 will go into the break at the top of Division 1 after a win over the Fruithill Hawks. Daniil Zelenchuk achieved a fine win over John Cairns, while Calum Leitch and Modestas Razbadauskas also won for the visitors. Ciaran Marron beat Ross Harris while Gatis Barbals and David Hill played to a draw. Ballynafeigh 1 were without Steve Scannell for their visit to the Quaker Meeting House, but were still favourites on paper against Kelly's Heroes. A draw for Gareth Annesley against David Houston complicated matters, though, and wins for Sam Flanagan and John McKenna, as well as a draw between David Ruben and Ian Woodfield, gave the Marlborough Park side a fine win.
Division 3
Fruithill Ravens 5-0 Ballynafeigh 3
Ballynafeigh 4 2.5-2.5 Strand 3
QUB 3 3.5-1.5 Strand 4
QUB 3 won their sixth match in a row to cement their grip on Division 3. This included an upset-of-the-week performance from Jamie Corscadden (768) who beat Ken Haddock (1001), while there were also wins for Rian Mellotte and Robert Clarke. Aaron Wafflart won for the visitors against Peter McFarland, and William Watson drew with Ronan Fitzsimons. The Fruithill Ravens moved into second place by whitewashing a Ballynafeigh 3 side which was two players short, while the mid-table encounter between Ballynafeigh 4 and Strand 3 finished in a draw.
Standings
| Division 1 | Played | Points | Division 2 | Played | Points | Division 3 | Played | Points |
| --- | --- | --- | --- | --- | --- | --- | --- | --- |
| Strand 1 | 6 | 32 | Northern Lights | 7 | 35 | QUB 3 | 6 | 35.5 |
| Ballynafeigh 1 | 6 | 28 | QUB 2 | 7 | 34 | Fruithill Ravens | 6 | 29.5 |
| QUB 1 | 6 | 26 | Strand 2 | 6 | 23 | Bangor 2 | 6 | 27 |
| Fruithill Hawks | 7 | 22.5 | Bangor 1 | 7 | 20.5 | Strand 3 | 7 | 25 |
| Kelly's Heroes | 7 | 21.5 | The B Team | 7 | 18.5 | Ballynafeigh 4 | 7 | 19 |
| Ballynafeigh 2 | 6 | 13 | Fruithill Falcons | 6 | 9 | Strand 4 | 7 | 16.5 |
| Civil Service | 6 | 11 | | | | Ballynafeigh 3 | 7 | 8.5 |