Ballynafeigh 1 miss big opportunity to close gap
(B&D League 2018/19 Week 12) Ballynafeigh 1 were held to a surprise draw by a makeshift QUB 1 side, while Strand 1's march to the Silver King continues unabated.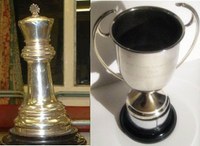 Division 1
Ballynafeigh 1 2.5-2.5 QUB 1
Strand 1 4-1 Ballynafeigh 2
When QUB 1 turned up with only four players for their match with second-placed Ballynafeigh 1, the hosts could be forgiven for thinking that an easy match, and a big chunk taken out of Strand 1's lead, awaited. The students had other ideas, though. Mohamed Musa holds an estimated rating of 1500, but that will surely be revised upwards as he beat WFM Karina Kruk. Damien Lavery saw off Ulster Intermediate Champion Cathan Gormley, but Callum Ormerod held Steve Scannell to a draw while Daniel Diaz-Roncero Gonzalez (1862) inflicted a first league defeat in nearly five years on David Houston (2080) to secure a share of the bonus points. Strand 1 took full advantage of the Ormeau Road side's slip-up with a 4-1 win over Ballynafeigh 2, going 11.5 points clear at the top of the table. Calum Leitch celebrated his birthday with a win over Eoin Carey, while there were also wins for Modestas Razbadauskas and Michael Sheerin, and Ross Harris and Brendan Jamison drew with Paul McNaughton and John O'Doherty respectively. The scheduled match between Civil Service and the Fruithill Hawks was postponed.
Division 2
Fruithill Falcons 2-3 Strand 2
In a rescheduled match from Week 7, Strand 2 narrowly beat the Fruithill Falcons. For the first time this season, the Falcons had the stronger line-up on average, but Strand 2 have generally been playing above their ratings this season, and this time it was no different. The uncle-and-nephew pairing of Michael and James Wong delivered two points for the visitors, against Chris Hamill and Frank Carrothers respectively. Gerry McCartney and Sean Linton won for the Andersonstown Road side, but John Bradley saw off Neil Fisher to secure the bonus points for Strand 2.
Division 3
Ballynafeigh 3 0.5-4.5 Strand 3
Bangor 2 3.5-1.5 QUB 3
Strand 4 2-3 Ballynafeigh 4
Bangor 2 came out on top in their top-of-the-table clash with QUB 3. The match was won on the top three boards as Jonny Brown, Mark Seidman and Gary Johnston defeated Rian Mellotte, Robert Clarke and PJ Mallon respectively. Samuel Todd played out a draw with Mark Crawford, while the unrated Conal Boyle was too good for Ben Toogood. Bangor 2 are now nine points ahead, although QUB 3 have a match in hand. Strand 4 easily saw off bottom side Ballynafeigh 3, with Ciaran Rowan, Taufik Kamal, Brian Fitzsimons and Blake Harris all winning for the visitors, while James Barbour was the sole point-scorer for the home side, drawing against Dexter Harris. Ballynafeigh 4 exacted a measure of revenge as they beat Strand 4 3-2 - and it should have been more, as David Seaby allowed a seemingly certain victory to slip through his fingers against Neil Gardiner. Derek Truesdale drew with Ken Haddock and Joe Connolly drew with Geoff Hindley, while wins for Mitch Kee and Andy Boal sewed up the bonus points for Ballynafeigh 4.
Standings
| Division 1 | Played | Points | Division 2 | Played | Points | Division 3 | Played | Points |
| --- | --- | --- | --- | --- | --- | --- | --- | --- |
| Strand 1 | 9 | 50 | Northern Lights | 10 | 51 | Bangor 2 | 10 | 51.5 |
| Ballynafeigh 1 | 9 | 38.5 | QUB 2 | 10 | 46.5 | QUB 3 | 9 | 42.5 |
| QUB 1 | 9 | 36 | Strand 2 | 10 | 36 | Fruithill Ravens | 9 | 39 |
| Fruithill Hawks | 9 | 33.5 | Bangor 1 | 10 | 28.5 | Ballynafeigh 4 | 10 | 35 |
| Kelly's Heroes | 9 | 28 | The B Team | 10 | 26.5 | Strand 3 | 10 | 35 |
| Ballynafeigh 2 | 10 | 21 | Fruithill Falcons | 10 | 21.5 | Strand 4 | 11 | 26.5 |
| Civil Service | 9 | 17 | | | | Ballynafeigh 3 | 11 | 21.5 |