Imperious Strand 1 march on
(B&D League 2018/19 Week 17) Can anyone stop Strand 1 from claiming their first Silver King? The answer certainly isn't Civil Service, as they were thrashed 4.5-0.5 by the league leaders. Division 3 is looking a little tighter, as leaders Bangor 2 succumbed to the Fruithill Ravens.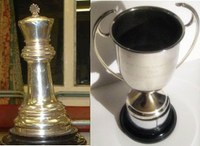 Division 1
Kelly's Heroes 3.5-1.5 Fruithill Hawks
Strand 1 4.5-0.5 Civil Service
Strand 1 stretched their lead to 23 points as they easily saw off Civil Service. Daniil Zelenchuk was held to a draw by Danny Roberts, but the home side were heavy favourites on the other boards, and it showed as Calum Leitch, Modestas Razbadauskas, Ross Harris and Brendan Jamison all won. Kelly's Heroes moved into joint second place with a win over the Fruithill Hawks. Gareth Annesley battled to a draw with John Cairns and Sam Flanagan was beaten by John Masterson, but the lower boards delivered the points for the Marlborough Park side as John Bryars, David Ruben and John McKenna were victorious. The match between Ballynafeigh 1 and Ballynafeigh 2 was postponed.
Division 2
Fruithill Falcons 2-3 The B Team
QUB 2 2-3 Bangor 1
Strand 2 1.5-3.5 Northern Lights
Bangor 1 5-0 Fruithill Falcons
The Fruithill Falcons were over-250-point-per-board underdogs against The B Team, but ran their opponents surprisingly close as Gerry McCartney (1236) beat Bobby Thompson (1453), Kevin Agnew (1274) drew with Cathal Murphy (1365), and Chris Hamill (967) drew with Norman McFarland (1376). However, wins for Paul Hanna and Bernard Jaffa secured the bonus points for The B Team. Bangor 1 narrowly beat a four-man QUB 2 team, while Northern Lights beat Strand 2 despite a couple of excellent individual performances from the home team; Jake Patterson (1261) battled to a draw with Martin Donaghy (1470) while Michael Sheerin (1531) pulled off an excellent win over Nicholas Pilkiewicz (1857). Bangor 1 were due to meet the Fruithill Falcons in a rescheduled match from two weeks ago, but the Falcons were unable to field a team and thus forfeit the match.
Division 3
Ballynafeigh 3 3-2 Strand 4
QUB 3 5-0 Strand 3
Bangor 2 1.5-3.5 Fruithill Ravens
The top of the table clash between Bangor 2 and the Fruithill Ravens ended in victory for the second-placed Ravens, who are now nine points off the lead with a match in hand. The top boards went well for the home side, as Jonny Brown defeated Pearse O'Brien and Ken Browne drew with Sean Linton, but the lower boards were decided by the Ravens' superior strength in depth as John Monaghan, Gerry Collins and Michael Toal all won. QUB 3 also look as if they could mount a late title challenge - after their whitewash of Strand 3 they are 19.5 points behind Bangor 2, but have three matches in hand. Ballynafeigh 3 secured a narrow win, only their third of the season, against Strand 4 - the highlight of which was James Shaw's (654) win over Geoff Hindley (984).
Standings
| Division 1 | Played | Points | Division 2 | Played | Points | Division 3 | Played | Points |
| --- | --- | --- | --- | --- | --- | --- | --- | --- |
| Strand 1 | 14 | 73.5 | Northern Lights (Champions) | 15 | 74.5 | Bangor 2 | 15 | 75 |
| QUB 1 | 13 | 50.5 | QUB 2 | 15 | 57.5 | Fruithill Ravens | 14 | 66 |
| Kelly's Heroes | 15 | 50.5 | The B Team | 15 | 53 | QUB 3 | 12 | 55.5 |
| Fruithill Hawks | 13 | 50 | Bangor 1 | 15 | 51 | Ballynafeigh 4 | 14 | 44 |
| Ballynafeigh 1 | 12 | 47.5 | Strand 2 | 14 | 47.5 | Strand 3 | 13 | 36.5 |
| Ballynafeigh 2 | 13 | 29.5 | Fruithill Falcons | 14 | 24.5 | Strand 4 | 14 | 36 |
| Civil Service | 14 | 27.5 | | | | Ballynafeigh 3 | 14 | 23 |