Civil Service make early running as new league season kicks off
(B&D League 2018/19 Week 1) Civil Service survived an unexpected setback on board 1 to earn victory against Ballynafeigh 2 and end the first week of the season on top of Division 1.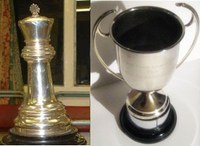 Preview
The Belfast and District League is back - and better than it has been in a long time. Twenty teams, the most since the '90s, will do battle over the next six months for the Silver King, John Strawbridge Cup and Division 3 Plate. These include three teams from QUB, making a welcome return to the league after their withdrawal last year, but one major name is missing - that of the Silver King holders, Muldoons. After five seasons at the Corporation Square establishment, they have upped sticks and headed south to the Northern Lights bar on the Ormeau Road. Not only that, but with a number of key players departing - such as Gareth Annesley to Belfast South and Steven Eachus to Bangor - they have scaled back to a single team in Division 2.
Among the favourites to fill the gap are former champions Ballynafeigh 1 (with 12 Ulster Championships between their top two boards, David Houston and Steve Scannell), Strand 1 (with current Ulster Champion Thomas Donaldson set to feature on an occasional basis and Ireland's Glorney Cup hero Daniil Zelenchuk) and the Fruithill Hawks (benefitting greatly from the return of the likes of John Cairns and Ryszard Kaczorowski as they aim to take the Silver King to West Belfast for the first time since the heyday of the old RVH club). Civil Service have also been boosted by the arrival of the 1852-rated David Blair, while Belfast South's first team will be known as Kelly's Heroes this season. Ballynafeigh 2 and QUB 1 complete the line-up.
As previously mentioned, Northern Lights are not quite the force that Muldoons were, but with Nicholas Pilkiewicz and Stephen Wood on boards 1 and 2 they are the early favourites to take the Strawbridge Cup. The B Team, as Belfast South's second team, are effectively the defending champions, but will face a tough task to retain the Strawbridge Cup - not only the aforementioned Northern Lights, but Strand 2 and a resurgent Bangor, with Steven Eachus as their new board 1, all have stronger squads on paper. QUB 2, with five players within 41 rating points of each other, will be a serious headache to prepare against thanks to the 100-point rule, and could spring some surprises. The Fruithill Falcons are the rank outsiders of the division, but with a line-up including Tony Parker and Ulster Junior Champion Gatis Barbals they cannot be ruled out either.
In what may be a first for Division 3, Ballynafeigh 3 are headed by a FIDE-titled player as WFM Karina Kruk is listed as their regular board 1 - indeed, their squad would look more at home in Division 2, with four players rated over 1200. Even with the new rule stating that Division 3 sides may only field two such players in any one match, they are still the clear favourites. Bangor have a second team once again, with Bangor Grammar School pupils set to feature heavily, including Peter and Samuel Todd, backed up by experienced Bangor stalwarts such as Gary Johnston, Mark Seidman and Walter Wilson. The Fruithill Ravens are also expected to be among the challengers for the Plate - with their top five players all within 100 rating points of each other, they will certainly not be easy to prepare against. QUB 3 are another tough side to predict, with a university being an ideal environment to unearth talented players, as has been shown before. Plate holders Strand 4 are not widely expected to repeat their heroics this season, but with numerous improving juniors on the panel anything can happen. Strand 3 and Ballynafeigh 4 round out the division.
Full squad and fixture lists can be found at http://www.chessni.co.uk/belfastleague2018to2019.html. Here's how the first week of league action panned out:
Division 1
Fruithill Hawks 2-3 QUB 1
Ballynafeigh 2 1.5-3.5 Civil Service
Kelly's Heroes 2-3 Strand 1
Civil Service are the week 1 leaders after beating Ballynafeigh 2 3.5-1.5. Things started well for the home side as in the first game to finish Robert Lavery used his outside passed pawn to good effect as he defeated Danny Roberts despite being on the back foot for much of the game. James Barbour and Adrian Dornford-Smith drew on board 5 before Mark Newman levelled the match by beating John O'Doherty. For a while it seemed as if Paul McNaughton might escape with a draw despite being two, then three, then four pawns down against Paul McGuigan, as he rattled off check after check against McGuigan's exposed king. Once McGuigan found shelter for his king, though, that was that. By this point, a tense blitz finish was brewing on board 2 between Karina Kruk and David Blair. Blair had not played a competitive game of chess since 2006; nevertheless, he held his nerve as Kruk uncharacteristically allowed a mate in one with just seconds on the clock for each player. QUB 1 marked their return to the league with an excellent win over the Fruithill Hawks. Cathan Gormley (1459) pulled off the upset of the week against Stephen McCann (1748), while Sergio Esteve Sanchez and Callum Ormerod also won for the visitors. Strand 1's strength in depth was key against Kelly's Heroes; Daniil Zelenchuk fell to defeat against Gareth Annesley on board 1, but with draws on boards 2 and 3 and wins against lower-rated opposition on 4 and 5, the Holywood Road side secured the bonus points.
Division 2
Northern Lights 3-2 Fruithill Falcons
QUB 2 3-2 Strand 2
Bangor 1 3.5-1.5 The B Team
Bangor 1 lead the division after a 3.5-1.5 win over The B Team, but will have wanted a more convincing result against a team who were a player short and were over 200-point-per-board underdogs. Sam Moore (1478) was held to a draw by Martin Kelly (1330) and Albert McCarter (1452) was beaten by Paul Hanna (1250). Steven Eachus and Alan McConnell proved to be too strong on boards 1 and 2, however. Northern Lights claimed a narrow win over the Fruithill Falcons. Nicholas Pilkiewicz and Stephen Wood prevailed on boards 1 and 2, as expected, while Paul Logan won for the visitors on board 5 and boards 3 and 4 were drawn. Last but not least, QUB 2 came out on top in an evenly-matched contest against Strand 2.
Division 3
Fruithill Ravens 1.5-3.5 Ballynafeigh 4
Bangor 2 3.5-1.5 Strand 4
QUB 3 5-0 Ballynafeigh 3 (forfeit)
QUB 3 are top of Division 3 without playing a move as Ballynafeigh 3 were unable to put out a team for their opening match. In contrast, Ballynafeigh 4 had a much better time, beating the Fruithill Ravens thanks to wins from Derek Truesdale, Mitch Kee and Andy Boal. In the Bangor 2 vs Strand 4 match, Tim Morrison was too good for Ben Toogood as he won for the visitors on board 5, but the home side's Peter Todd, Jonny Brown and Gary Johnston all won to claim the bonus points for Bangor 2.
Standings
| Division 1 | Played | Points | Division 2 | Played | Points | Division 3 | Played | Points |
| --- | --- | --- | --- | --- | --- | --- | --- | --- |
| Civil Service | 1 | 5.5 | Bangor 1 | 1 | 5.5 | QUB 3 | 1 | 7 |
| QUB 1 | 1 | 5 | Northern Lights | 1 | 5 | Ballynafeigh 4 | 1 | 5.5 |
| Strand 1 | 1 | 5 | QUB 2 | 1 | 5 | Bangor 2 | 1 | 5.5 |
| Fruithill Hawks | 1 | 2 | Fruithill Falcons | 1 | 2 | Fruithill Ravens | 1 | 1.5 |
| Kelly's Heroes | 1 | 5 | Strand 2 | 1 | 2 | Strand 4 | 1 | 1.5 |
| Ballynafeigh 2 | 1 | 1.5 | The B Team | 1 | 1.5 | Strand 3 | 0 | 0 |
| Ballynafeigh 1 | 0 | 0 | | | | Ballynafeigh 3 | 1 | 0 |