Northern Lights clinch Strawbridge Cup
(B&D League 2018/19 Week 15) The John Strawbridge Cup has a new name on it after Northern Lights convincingly saw off their nearest rivals QUB 2 to secure the Division 2 trophy with two matches to spare.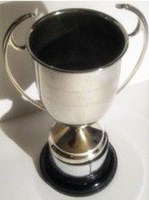 Division 1
Ballynafeigh 2 3-2 Civil Service
Kelly's Heroes 3-2 Strand 1
Kelly's Heroes became the first team to beat Strand 1 this season with a 3-2 win over the Holywood Road side. Gareth Annesley, John Bryars and John McKenna won their games to secure the bonus points for the home side, while Ross Harris beat David Ruben and Calum Leitch beat Sam Flanagan to continue his fine run of form. Ballynafeigh 2 finally claimed their first win of the season despite missing two key players as they beat Civil Service 3-2. They were helped by the visitors only being able to bring four players to Ballynafeigh Community House. Vincent O'Brien defeated Jim McLean, while Paul McNaughton drew with David Blair. Mark Newman beat John O'Doherty and Adrian Dornford-Smith held Chris Kelly to a surprise draw, but it was too little, too late for the Stormont side. The scheduled match between the Fruithill Hawks and QUB 1 was postponed
Division 2
QUB 2 0.5-4.5 Northern Lights
Strand 2 2.5-2.5 The B Team
Northern Lights travelled across the Lagan to QUB 2 needing a win to secure the Division 2 title. They achieved it in style with a 4.5-0.5 hammering of the students. Nicholas Pilkiewicz, Stephen Wood, Martin Donaghy and Bernard McCaughey won to put the Ormeau Road side out of reach, 18 points ahead with only two rounds remaining. Rian Mellotte managed to avoid the whitewash for the home side with a draw against Des Moreland. The B Team were the favourites on rating against Strand 2, but were held to a draw, thanks mainly to fine performances from Colin Burcombe (1218) who beat Paul Hanna (1386) and Adam Rushe (1112) who drew against Norman McFarland (1376). The match between Bangor 1 and the Fruithill Falcons was postponed.
Division 3
QUB 3 1-4 Fruithill Ravens
Ballynafeigh 4 1-4 Bangor 2
Strand 3 0-5 Fruithill Ravens
The Fruithill Ravens were twice the beneficiaries of their opponents' board 1 failing to turn up this week; firstly, in their scheduled match against QUB 3, the students had no board 1, and only avoided a 0-5 by virtue of the Ravens only fielding four players themselves; and secondly, in a rescheduled match from week 13, Strand 3's board 1 no-showed, rendering Dexter Harris's (1030) joint upset-of-the-week performance against Ciaran Holmes (1329) ultimately meaningless. Leaders Bangor 2 also gained points in this way, as a no-show from the home side's board 4 meant the visitors took home the full point on board 5 despite a draw between James Shaw and Sam Bowman. Ballynafeigh 4's sole point came in the form of Joe Connolly's (1004) win over Mark Seidman (1303). Strand 4 vs Strand 3 was postponed.
Standings
| Division 1 | Played | Points | Division 2 | Played | Points | Division 3 | Played | Points |
| --- | --- | --- | --- | --- | --- | --- | --- | --- |
| Strand 1 | 12 | 62 | Northern Lights (Champions) | 13 | 67 | Bangor 2 | 13 | 68 |
| QUB 1 | 12 | 48.5 | QUB 2 | 13 | 49 | Fruithill Ravens | 12 | 59 |
| Ballynafeigh 1 | 11 | 46.5 | The B Team | 13 | 43 | QUB 3 | 11 | 48.5 |
| Fruithill Hawks | 11 | 46.5 | Strand 2 | 12 | 40.5 | Ballynafeigh 4 | 13 | 38 |
| Kelly's Heroes | 13 | 39 | Bangor 1 | 12 | 37.5 | Strand 3 | 11 | 35 |
| Ballynafeigh 2 | 13 | 29.5 | Fruithill Falcons | 11 | 22 | Strand 4 | 12 | 28.5 |
| Civil Service | 12 | 22 | | | | Ballynafeigh 3 | 12 | 17 |