QUB teams lead all three divisions after three wins
(B&D League 2018/19 Week 4) All three divisions are led by a QUB team after some fine performances from the students.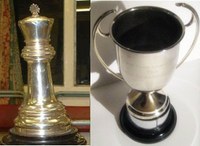 Division 1
Ballynafeigh 2 1-4 QUB 1
Civil Service 2-3 Kelly's Heroes
QUB 1 produced a dominant performance against Ballynafeigh 2 to return to the top of Division 1. Sergio Esteve Sanchez, Cathan Gormley and Ting Yan Lee won for the visitors, while Callum Ormerod drew with John O'Doherty and Samuel Ngieng drew with Chris Kelly. Kelly's Heroes won their first match of the season against Civil Service. Gareth Annesley defeated Ulster Masters winner Danny Roberts while the other four games were all drawn. The scheduled match between the Fruithill Hawks and Ballynafeigh 1 was postponed.
Division 2
QUB 2 4-1 Northern Lights
The B Team 2.5-2.5 Strand 2
Bangor 1 4-1 Fruithill Falcons
QUB 1 overtook Northern Lights at the top of Division 2 with a fine victory over the Ormeau Road side. Clark Rodriguez (1456) scooped the upset of the week with his win over Stephen Wood (1722), while there were also wins for Daniel Diaz-Roncero Gonzalez, Rian Mellotte and Peter McFarland. Nicholas PilkieWicz was the sole point-scorer for the visitors as he beat Ram Rajan. Bangor 1 gave chase to the leading duo with a 4-1 win over the Fruithill Falcons, but will be disappointed not to have secured the whitewash as Steven Eachus (1743) and Alan McConnell (1632) were held to draws by Frank Carrothers (1209) and Gerry McCartney (provisionally 1250) respectively. The B Team went into this week level on points with Strand 2 - and that's how it stayed, as the teams fought to a draw. Chris Armstrong and Norman McFarland won for The B Team, Pat Coleman and Jake Patterson won for the visitors, and Bobby Thompson drew with Michael Sheerin on board 1.
Division 3
Fruithill Ravens 3.5-1.5 Strand 3
QUB 3 3-2 Ballynafeigh 4
QUB 3 maintained their lead in Division 3 with a narrow win over Ballynafeigh 4 thanks to wins from Robert Clarke, Jamie Corscadden and the unrated Andrew Salmon. Close behind are the Fruithill Ravens, who beat Strand 3 3.5-1.5. Pearse O'Brien, Evan Elwood and Ross Smith secured the win for the Andersonstown Road side, while John Monaghan drew with Dexter Harris and Adam Fitzsimons won for the visitors. The scheduled match between Bangor 2 and Ballynafeigh 3 was postponed.
Standings
| Division 1 | Played | Points | Division 2 | Played | Points | Division 3 | Played | Points |
| --- | --- | --- | --- | --- | --- | --- | --- | --- |
| QUB 1 | 3 | 17 | QUB 2 | 4 | 19.5 | QUB 3 | 3 | 18.5 |
| Strand 1 | 3 | 16 | Northern Lights | 4 | 18.5 | Fruithill Ravens | 4 | 16.5 |
| Kelly's Heroes | 4 | 11 | Bangor 1 | 4 | 16 | Bangor 2 | 3 | 12.5 |
| Civil Service | 4 | 9.5 | The B Team | 4 | 12 | Strand 4 | 3 | 10 |
| Fruithill Hawks | 3 | 9 | Strand 2 | 4 | 12 | Ballynafeigh 4 | 3 | 9 |
| Ballynafeigh 1 | 2 | 8.5 | Fruithill Falcons | 4 | 6 | Ballynafeigh 3 | 3 | 7.5 |
| Ballynafeigh 2 | 3 | 6 | | | | Strand 3 | 3 | 3 |