Queens run a brilliant tournament for the charity Childreach International
A week after the Williamson we have the opportunity for even more chess! Queens Chess Club run a weekender over three days to raise funds for Childreach International. Ben Campbell organised the event. With the team of Mark Newman and Brendan Jamison controlling.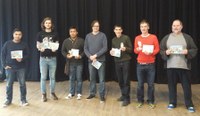 I met Brendan at the venue at Queens early friday evening. We setup the room and entered the names into the computer. With an odd number of players and the team of Brendan and Mark controlling. It allowed me to play in the first round, allowing everyone to get a game. Brendan being top rated was the favourite. The venue of the Coffee Bar on the 2nd floor is an impressive hall - excellent for a chess tournament.
For prizes we decided that the bulk of the entrance should go to the Charity - Childreach International : https://www.childreach.org.uk/ we offered as prizes Simultaneous tickets, trophies for the winners and certificates for all placed players. All tbanks for the organisation and charity donation go to Ben Campbell.
It was going to be a tough tournament with some rising stars, Rian Mellotte , Daniil Zelenchuk, Edward Doak, Ram Rajan and some regulars chess players who can be briliant - John McKenna, Robert Lavery.
Will there be any upsets and will Brendan reach the winners position successfuly...... lets find out
Pairings round 1 (Friday, 03 February 2017)
| | |
| --- | --- |
| Draw by default | Utkarsh Gupta; Dmitry Zelenchuk; Geoff Hindley; Bhudhav Singh; Clark Rodriguez |
Generated by Swiss Master for Windows on 05-02-2017 at 19:08
Daniil gives Mark a difficult game, with Rooks and pawns it was possibly a draw and Daniil offered a draw several times. Mark Played on and eventually the Rooks were swaped and the extra pawn won the game - very close. Rian plays brilliantly to get a win off John McKenna who is a strong contender particularly after last weeks tournament. Rian did well in the last tournament at Queens the Masters winning the under 1000 grading prize and coming 9th out of 25. All the rest of the games went to rating.
Pairings round 2 (Friday, 03 February 2017)
| | |
| --- | --- |
| | |
| Draw by default | Mark Newman |
Ram Rajan beats Robert Lavery. Clark Rodriguez a new player takes a point of Geoff Hindley. Whilst Tyrone Winter gets a draw against Daniil Zelenchuk. Chess is never easy and theres no straightforward game.
Pairings round 3 (Saturday, 04 February 2017)
| | |
| --- | --- |
| | |
| Draw by default | Jasper Ramsey |
Some more upsets. Geoff Hindley beats Edward Doak. Rian Mellotte continues his run of success and beats the tough player  Martin Kelly. Whilst John McKenna beats Robert Lavery. Brendan maintains his unbeaten run.
Chatting to Jasper Ramsey I found out that he was taking a bye due to a clash with a Card game. Steven Rush has invented an excellent Card game with beautifully designed cards of based on myths. The game is called Other Gods - for more details see the facebook page: OtherGodsGame. I took the opportunity to drop into the group who were playing downstairs. I bought a couple of decks and Steven taught me to play, we had a short game and he easily beat me. It added to the fun of the weekend - Thanks Steven.
Pairings round 4 (Saturday, 04 February 2017)
| | |
| --- | --- |
| Draw by default | John McKenna; Tyrone Winter |
The two favourites meet. Brendan plays Mark and a draw in a complicated position is agreed. Clark Rodriguez gets a good draw against Ram - Clarke although unrated is a play to reckon with. Rian plays excellently to get a draw off Daniil. Father Dmitry obtains a good draw against Robert Lavery whilst Rhys McLean who at short notice agreed to play wins against much higher rated player Ben Campbell.
Pairings round 5 (Sunday, 05 February 2017)
| | |
| --- | --- |
| Draw by default | Daniil Zelenchuk |
| | |
Rian continues to suprise and plays an excellent draw against Mark Newman. Dmitry continues to get results against higher rated players with a draw against John McKenna. Ram Rajan gets a good win against Utkarsh Gupta.
Pairings round 6 (Sunday, 05 February 2017)
Robert Lavery and Brendan Jamison agree a Grandmaster draw after about 15 moves. Brendan winning the tournament.
Ram Rajan tries a brilliant attack against Mark with a sacrifice of a Knight to open up the King and bring the Rooks baring down on an exposed King. Luckily for Mark there was a bishop fork of two Rooks and eventually the attack softened and with less pieces Ram had to accept defeat - but Mark breathed a big sigh of relief. Dmitry again got an excellent result drawing against Martin Kelly, whilst Daniil won against higher rated Utkarsh Gupta. Rian continued his success to end on 4 points.
Final
The Winners
Seniors
Champion: Brendan Jamison
2nd: Mark Newman
3rd: Robert Lavery
Intermediates
Champion: Edward Doak
2nd: Ram Rajan
3rd: Daniil Zelenchuk
Juniors
Champion: Clark Rodriguez
2nd: Rian Mellotte
3rd: Tyrone Winter
The special award of Giant Slayer was given to Rian Mellotte.
Thanks to everyone a brilliant tournament with lots of excellent chess and a good amount of money raised for Childreach International.
See you at the next tournament.