5 NI players scoop awards at Bunratty
A report from our chess reporter - Brendan Jamison. Northern Ireland players do well at Bunratty.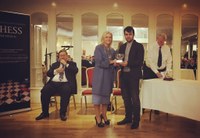 Mayor of Ennis, Ann Norton presents the winning cup to Mikhail Pavlov, Bunratty Challengers Champion 2017
35 players from Northern Ireland competed in Bunratty, Ireland's largest international chess festival. There were a total of 333 players across all 4 sections, with the Masters band featuring a wealth of high-profile figures, including Grandmasters Nigel Short, Jonathan Speelman, Mark Hebden, Alexander Baburin and Peter Wells. NI Chess hero David Houston (2219) finished with an impressive score of 3.5/6 in the Masters section of 48 players, in a field completely dominated by GMs, IMs and FMs!
Meanwhile in the Challengers (1600-1999), 83 players fought hard for the trophy and the 600 Euro first prize but it was Northern Ireland's top Russian chess player Mikhail Pavlov (1766) who won the entire section with an outstanding score of 5.5/6 and a tournament performance rating (TPR) of 2157. His phenomenal Round 5 game against WCM Diana Mirza (1854) can be viewed on the Games Archive page. The other notable score in this band was Sergio Esteve-Sanchez (1994) who also remained unbeaten, chalking up three draws and three wins to finish on 4.5/6.
The Major section (1200-1599) saw 13 year old Daniil Zelenchuk (1370) win the Band 1 grading prize with an impressive score of 4.5/6, finishing 5th out of 85 players. He was also the highest scoring NI player in this band. In Round 1 Daniil demonstrated a spectacular win over number 1 seed Jonathan Smith (1585), with a thrilling game of tactical brilliance which was broadcast live across the internet. Unsurprisingly, Daniil's TPR was 1628 and bodes well for his journey towards a 2000 rating in the years to come! Other outstanding performances in this section were by Liam Ferris (1247), Ram Rajan (1368) and John Phillips (1223), all finishing on 4/6, with Phillips scooping the Band 3 Grading Prize.
The Minor section (Under 1200) also saw a remarkable performance by Belfast player Rian Mellotte (987) who won 3rd prize with 5/6, followed closely by Tyrone Winter (944) who claimed the grading prize with 4.5/6. Two other impressive tournament results in this section came from QUB mastermind Chris Roe (1095) and UCU Treasurer Adrian Dornford-Smith (1155), both ending on 4.5/6 and finishing in the top 15 from a field of 117 players! Two other players from Northern Ireland shined through in this section, Ben Campbell (1010) and Iza Bujak (1188), both only losing one game and drawing two, with the pair ending with a very respectable 4/6.
View a table
of how our 35 players performed across each section