Ulster Junior Success at Irish Championships
A group of talented youngsters from Ulster arrived at Sligo to play in the Irish Junior Championships over 7th - 9th April and they did brilliantly.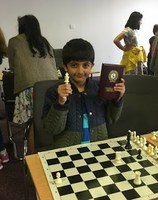 For full report go to Ross Harris Report :  http://childrenschessni.blogspot.co.uk/2017/04/success-at-irish-championships.html
Jonathon Peoples gained 2rd place in the tough Under 19 section - just failing to get first place on a tie break.
Avrora Zelenchuk came 3rd in the Under 12 Girls Championship
Aaditya Singh came 2nd in the Under 8 Section
Anajali Singh came 2nd in the Girls Rapid play tournament.
Also playing and doing well against very tough opposition was Dexter Harris and Adam Fitzsimons.
Its fantastic to see youngsters playing in top competitions and doing brilliant.