The last round of this years Summer Tournament was played on Sept 18th 2019 what are the Standings?
The Summer tournament has now played for 21 weeks - A drop in tournament - setup to allow players to play during the Summer months when alot of clubs close. With plenty of exciting chess. Next week we have a fun quick play tournament and award ceremony - all welcome.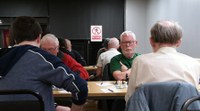 As the tournament is a drop-in tournament. The competition is calculated on the percentage of each players points. With a special rule for the last 3 weeks (if you play 14 or more games you are exempt this rule). A player has to play 2 of these 3 weeks and looses a point for each of these 2 games not played. So if you play only 1 in the last 3 weeks you loose 1 point. To qualify for the tournament you must play 10 or more games.
This year we have had some 24 players over a marathon of 21 weeks and total of 144 games.
The final winner was a tight battle between Mark Newman (Me), Ciaran Rowan and Cathal Murphy. Interestingly each player in a different section.
Both Ciaran and Cathal won their games. Ciaran was playing up a section against Roy Stafford who was also playing for a percentage that could give him a second place.
This year we have seen the same faces - players coming every week - and I wish to say many thanks for our regular players who made the competition such a delightful event. Jim McLean attended all the evenings apart from one - 20 weeks. Followed by Roy Stafford 19 weeks, David Ruben and David Seaby 18 weeks. Adrian Dornford-Smith and Stewart McConaghy 17 weeks.
With the final results in and the penalties calculated we have ( you cant win more than one prize - so if the Overall winner is in the Intermediate section then the next highest in that section wins the section ):
The Champion is : Cathal Murphy (77%)
Second Place is : Ciaran Rowan (75%)
Winner of the Senior Section: Mark Newman (70%)
Winner of the Intermediate Section: Roy Stafford (63%)
Winner of the Junior Section: Geoff Hindley (56%)
Below full standings and photos. - See you all at the award ceremony.
Senior Section
Name
Rating
Played
Points
%
last
3 weeks
with
Penalty
% with
Penalty
Winners
Mark Newman
1664
10
8
80.00
1
7
70.00
1st
Robert Lavery
1683
14
8
57.14
3
8
57.14
David Ruben
1572
18
9.5
52.78
3
9.5
52.78
Ian Woodfield
1576
13
8
61.54
0
6
46.15
Bobby Thompson
1490
10
4.5
45.00
1
3.5
35.00
Chris Armstrong
1421
15
5.5
36.67
1
4.5
30.00
Richard Gould
1563
2
0.5
25.00
0
-1.5
-75.00
Christopher Kelly
1528
2
0
0.00
0
-2
-100.00
Peter Wilson
1415
1
0.5
50.00
0
-1.5
-150.00
Intermediate Section
Name
Rating
Played
Points
%
last
3 weeks
with
Penalty
% with
Penalty
Winners
Cathal Murphy
1306
11
8.5
77.27
2
8.5
77.27
Overall 1st
Roy Stafford
1121
19
12
63.16
3
12
63.16
1st
Barney McGahan
1195
15
8
53.33
3
8
53.33
Adrian Dornford-Smith
1217
17
8.5
50.00
3
8.5
50.00
Stewart McConaghy
1307
17
7
41.18
3
7
41.18
Bernard Jaffa
1376
11
6
54.55
0
4
36.36
Peter McGuckin
1348
2
1.5
75.00
0
-0.5
-25.00
Junior Section
Name
Rating
Played
Points
%
last
3 weeks
with
Penalty
% with
Penalty
Winners
Ciaran Rowan
984
12
9
75.00
3
9
75.00
Overall 2nd
Geoff Hindley
980
16
9
56.25
3
9
56.25
1st
David Seaby
1023
18
9.5
52.78
3
9.5
52.78
Derek Truesdale
938
16
8
50.00
3
8
50.00
Paul Anderson
903
15
6
40.00
3
6
40.00
McLean, Jim
1067
20
5
25.00
3
5
25.00
James Fairley
914
8
1.5
18.75
2
1.5
18.75
Andy Boal
804
6
0
0.00
3
0
0.00