GM Luke McShane plays Belfast at Stormont Hotel - February 21st
Top player Grand Master Luke McShane played 29 chess players ranging in age from 9 years and up. At the brilliant venue of the Stormont Hotel.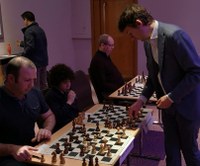 Damien Cunningham organises this brilliant annual event of a Grand Master playing all comers. A big thankyou to Damien. A big thankyou to the exceptional venue of the Stormont Hotel.
One rarely gets to play a GM. This has become one of my highlights of the year - I produced certificates with a photo of GM Luke McShane and the words "I survived (space for no) moves" - possibly a bit pessimistic - but I think a realism check that we are lucky to survive and the question is how long....
Ross Harris and team setup the room - 30 boards - with Names of opponents and their ratings (took mine home as a souvenir). On the boards the scoresheets and certificates.
Damien picked up Luke from the Airport and showed him some of the sites of Belfast before visiting the TItanic Museum where our titled player Karina Kruk (WFM) gave Luke a tour of the Iconic Museum.
The room waiting for the fantastic chess.....
Players arrived and took their places.
I stood outside the room where the Hotel had laid on Tea/Coffee and biscuits - and had a couple of coffees. Chatting to Damien Cunningham and Stewart McConaghy. When pleasantly suprised by GM Luke McShane's arrival. Damien went into the hall to prepare the players for Lukes arrival - leaving me in the brilliant situation of keeping Luke company in the hallway - I mentioned that in the car drive to the venue the youngsters in the car who had done some research on him had mentioned that he had beaten everyone in the Chess scene including Magnus Carlson, Vladimir Kramnick, Wesley So, ... he smiled and said one person he hadnt beaten was Vishy Anand although had had a better position several times. I said if that ever happened to me I would take that as a plus and think it good - he responded by saying that he originally thought that but when it happens more than once you really need to finish off the won position - sound advice and probably one of the things that makes the difference between me and a top player! He also mentioned that he enjoyed this his first visit to Belfast visiting the Titanic Museum. Then Damien came out of the room and took Luke into the playing arena to welcoming round of applause. A friendly chat with GM Luke McShane - how fantastic is that....
The players :
Adam Rushe

Adam Fitzsimons

Modestas Razbadauskas

Dexter Harris

Ciaran Marron

Gary Johnston

Brian Fitzsimons

Robert Brown

Nial Troughton

Tyrone Winter

Mark Newman

Eddie Khanzharov

Daniil Zelenchuk

Ian Woodfield

Stewart McConaghy

James Wong

Aaditya Singh

Adrian Dornford-Smith

Aaron Wafflart

Gabor Horvath

Kamil Szulc

Ross Harris

Jake Patterson

Dennis Thorpe

Michael Wong

Taufik Kamal

Danny Roberts

Michael Sheerin



Luke fairly wizzed around the boards. First move shaking hands with all the players. Then every player had to move when Luke arrived at the board and Luke replied to their move. Luke was White on every board and played various openings.
Players slowly dropped by the wayside. and you had to think quicker for your move - although Luke continued to speed around the tables - his mind just lightening fast.
As each player was defeated Luke would chat about the game giving hints over the positions.
Then Belfast had one win - Gabor Horvath a top player with the Strand Club. Could we get any more points....
Towards 10:00pm only a few were still playing. Adam Fitzsimons, Taufik Kamal , Adam Rushe, Ross Harris, Adrian Dornford-Smith, Ian Woodfield, Danny Roberts, ... and the time between moves had decreased. Damien explained that you could pass on a move once if you wished.
Danny Roberts drew and Belfast had 1.5 points - I was still playing and looking up saw that I was the last person standing. At this point I did rather panic - Luke was about to queen a pawn - I could only stop it by sacrificing my Rook - but that would leave me with two pawns against a Rook. I resigned - there was a groan and several spectators suggested I might have been able to play-on and push my pawns with a chance of a draw. Luke took a little time and discussed the position - there was the possibility of a draw - he signed my scoresheet - and added "by the skin of my teeth" what a brilliant end to a great evening.
The result - GM Luke McShane:27 1/2 Belfast :1 1/2  - Gabor Hovarth 1 (rating 1880 - Club: Strand), Danny Roberts 1/2 (rating 1870 - Club: Civil Service).
Luke signed the certificates and stayed for photos - before going for a drink with Damien and other chess players.
Damien Cunningham organised for Luke McShane to get to the Bunratty Chess Tournament where we have alot of Ulster Chess players playing and enjoying the great event. Luke went on to win the tournament without a loss - drawing 2 games :  https://www.bunrattychess.com/results_masters.html
Final
Many thanks to GM Luke McShane for some great chess. Also to Damien Cunningham for organising the event. Now a regular highlight of the year.
Wishing everyone great chess games ....