Universal Childrens Day and Chess Problem Solving.
In support of the Chess and Heritage Event run alongside of " Celebration of 800 years of Mayorality and Freeman of Newcastle of Tyne" on the Universal Children Day. Malola Prasath invited the Ulster Chess Union, to make it into a grand "Northeast Celebration". Ulster Chess Union ran a fun problem solving event at Caffe Nero, Lombard St. A small group of Problem solvers met and enthusiastically solved problems.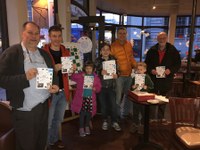 I arrived with Geoff Hindley at Caffe Nero, Lombard Street with over 100 chess problems.We setup 10 chess boards and waited to see who would appear.
As people arrived we played friendlys with a delicious cup of Caramel Latte. Adam and Brian Ftizsimmons arrived. Then Danill, Avrora and Dmitry Zelenchuk and Brendan Jamieson.
I handed out the first sheet of chess puzzles, these had some 22 checkmating problems - mainly checkmates in 2 moves. My preparation had been to provide 3 such sheets. and 6 sheets of none checkmating problems, each sheet themed - ie endgames, pinning, knight forks, removing a defender.... So plenty of problems and some beautiful problems from the excellent book - "Blunders and Brilliancies" by Ian Mullen and Moe Moss which were to be put up on the demo board for discussion. To make the event more chatty and fun we split into teams of two - one youngster and one stronger player. Players went through each problem and setup on the board and played through possibilities. Lots of chess discussion and laughter at mistakes and big satisfied smiles when the solution was spotted - many were beautifully elegent solutions. Daniil sped through the problems - solving them straight from the sheet and would have won the competition but as everyone was enjoying the solving we didnt mark the sheets but gave everyone a participation certificate.
To celebrate Universal Childrens Day we had the summary of the rights of children on the back of one of the problem sheets:
Summary of Childrens Rights UNICEF Childrens Rights Page
From the UNICEF website - "There are four articles in the convention that are seen as special. They're known as the "General Principles" and they help to interpret all the other articles and play a fundamental role in realising all the rights in the Convention for all children. They are:
Non-discrimination (article 2)
Best interest of the child (article 3)
Right to life survival and development (article 6)
Right to be heard (article 12)"
In todays increasingly individualistic society we mustnt loose sight of our community obligations and make our key aims family, the World community and celebration of diversity.
The event ended at 4:30pm with handing out problem sheets that hadnt been done and the awarding of certificates for this special event. and a group photo.
Many thanks to Caffe Nero and their excellent staff, and to all those who participated.
Some of the problems answers at bottom of the article:
Photos from the day:
The solutions
1.

 

1. Na6+ bxa6

2. Qb4#

 

2.

1. Ng6+ hxg6

2. Rh8#

3.

1. Rc8+ Bxc8

2. Re8#

4.

1. Nxf6+ Rxf6

2. Re8#

5.

1. Qc6+ Kxc6

2. Ne7#

6.

1. Qxb7+ Nxb7

2. Bc6#

7.

1. Qd5+ Nxd5

2. Bc2#

8.

1. Qxe3+ Nxe3

2. Ne6#

9.

1. Qd5+ Kxd5

2. Bg3#