Kings and queens battle at Royal School, Armagh
The first ever Armagh Rapidplay Chess Championships were held at the Royal School on Saturday 30 March. The event was run by the Ulster Chess Union (UCU) and kindly supported by the school headmaster Graham Montgomery.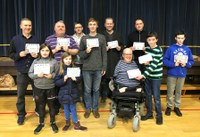 Article from our intrepid Chess Correspondent and Chess organiser - Brendan Jamison :
The Royal School Armagh has the current Ulster Under 16 Chess Champion, Louie McConkey, and it was through this connection, that the idea of holding a tournament was born. 54 players flocked to the event as locals mixed with entrants from Dublin, Donegal, Omagh, Enniskillen, Lisburn, Portadown, Belfast, Newtownards and Bangor. With 25 minutes per player, it was 6 rounds of intense speed chess.
The top section was rated by FIDE (World Chess Federation) and the lower section saw many youngsters play in their first ever event. The assembly hall was buzzing with activity all day long. 22 year old Ulster Champion Thomas Donaldson was crowned Armagh Rapidplay Champion with the undefeated score of 5.5/6. Thomas is the current chess club president of Imperial College, London, where he's completing the final year of his degree.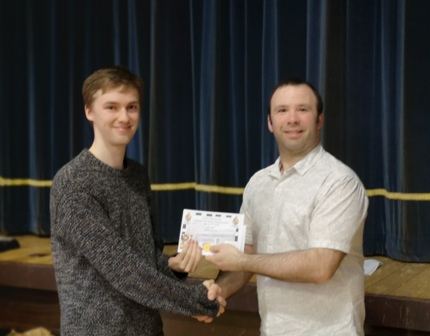 2nd place went to multi-award winning local champion Gareth Annesley. 3rd place was won by speed chess supremo Modestas Razbadauskas from Lithuania. The Under 1700 Grading Prize was picked up by Polish player Kamil Szulc with an impressive 4.5/6. The Under 1400 was won by Cathal Murphy with 4/6 and the Under 1100 was awarded to Paul Anderson (4/6). Both of these players punched far above their weight in a very tough section.
Meanwhile, in the junior section, Donegal schoolboy Eoin Boyle won the championship with 5/6 and his brother Conor took 3rd place with 4/6. Newtownards player Ken Haddock was awarded 2nd place with 4.5/6. The Under 800 Grading Prize was won by 7 year old Helen Bueckert, travelling up from Dublin with her three sisters and enthusiastic dad, Hagen, from the beautiful city of Weimar in Germany. 8 year old Sklya McConkey from Armstrong Primary, opposite the Royal School, was awarded the Under 700 Grading Prize after an excellent tournament performance.
At the prize-giving ceremony, UCU Tournament Director Brendan Jamison said "We are extremely grateful for the support of the Royal School Armagh and to Clare Finnegan-McConkey for working in the background to secure such an excellent venue. Also, a huge thanks to Richard Gould (National Arbiter) and Ross Harris (UCU President) for giving up their Saturday as volunteers to run the tournament so that everyone could enjoy their day of chess."
Reflecting on the tournament, Brendan concluded "chess and education go hand-in-hand as it's a special activity which enhances our creative thinking and problem-solving skills in a fun and friendly environment. Our tournaments embrace a true community spirit with players of all ages, all abilities and all nationalities coming together to enjoy mental gymnastics and mutual respect".
The next event is a youth chess rapidplay at Methodist College, Belfast, on Saturday 13 April from 12:30 to 5pm. It is open to children and teenagers from ages 5 up to 18. This monthly event attracts school players from all across Northern Ireland and is expertly run by Mark Newman, UCU Director of Children's Chess.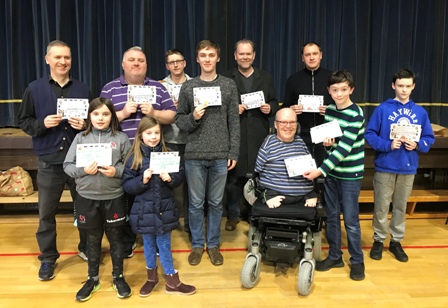 The 11 prize-winners, left to right: Cathal Murphy (Under 1400 Grading Prize), Skyla McConkey (Under 700 Grading Prize), Gareth Annesley (2nd), Helen Bueckert (Under 700 Grading Prize), Kamil Szulc (Under 1700 Grading Prize), Thomas Donaldson (Champion), Ken Haddock (Junior 2nd), Paul Anderson (Under 1100 Grading Prize), Modestas Razbadauskas (3rd), Conor Boyle (Junior 3rd) and Eoin Boyle (Junior Champion).