The Ulster Chess Union holds its nineth Summer School
Within the lovely location of Ballynafiegh Bowling Club. Over the three days Weds 8th to Fri 10th August 2018. Fourteen youngsters met and enjoyed 3 focused days of chess.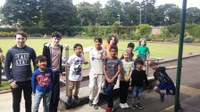 We had good weather a beautiful location, lots of new chess worksheets and some young chess players full of enthusiasm. Mixed together and one brilliant Chess Summer School.
In its 9th Year and thanks to the Belfast Council we had access to our now usual location of the Ballynafeigh Bowling Club - a little oasis of green in the Corner of Omeau Park.
The 3 days were spent playing an individual chess tournament, a battle chess tournament ( 4 pawns and a King for each player), a team tournament where players are paired one strong player with a weaker player and they have to discuss their plans so their opponents can hear - makes for good social chess and some excellent games, puzzle solving, worksheets on Pawn storms, The Guico Piano, Good Bishops v Bad Bishops, Open and Closed positions …..
We were also fortunate to have Gareth Annesley talk through some fun openings.
At the end of the three days - each players received a certificate with a photo of the group.
Thanks to all our volunteers without whom this event couldn't have happened. Geoff Hindley (Who has attended all the Childrens Chess events over the years), Ross Harris, Michael Wong and Gareth Annesley.
Also thanks to the Belfast Council for the Room and thanks to their excellent staff.
Its brilliant to see youngsters focused on solving problems, discussing moves and strategies and enjoying chess with enthusiasm.
Summer School 2018 Championship After Round 5
Standings
Place Name                  Score M-Buch. Buch. Progr.

  1   Adam Fitzsimons       4.5       8.0  12.5   14.5
  2   Louie McConkey        4         9.5  15.5   12.5
  3   Taufik Kamal          3.5      10.0  16.5   11.0
 4-7  Dexter Harris         3        10.0  16.5   10.0
      Aayush Sunhil Bhari   3         7.5  12.5    9.0
      Blake Harris          3         7.0  11.5    8.0
      Cian                  3         6.0  10.5    9.0
  8   Shravan Umesh Shennoy 2.5       8.0  11.5    6.5
9-10  Harshit Kokate        2         8.5  12.5    6.0
      Wong Peter            2         5.0   9.0    4.0
11-12 Sharan Varma          1.5       7.5  13.0    6.5
      Christiano Wong       1.5       6.5  11.5    5.5
13-14 Ethan Clydesdale      1         8.0  14.5    3.0
      Skyla McConkey        1         5.5  10.0    1.0

BattleChess - After Round 4 of playing both White and Black
Standings
Place Name                 Score M-Buch. Buch. Progr.

  1   Dexter Harris        7         9.0  19.5   17.0
  2   Louie McConkey       6.5       8.0  17.0   16.5
 3-5  Adam Fitzsimons      5.5       8.0  16.5   16.5
      Blake Harris         5.5       7.0  13.0   12.5
       Cian                5.5       5.5  11.0   13.5
  6   Taufik Kamal         5        11.0  21.0   16.0
  7   Harshit Kokate       4.5       9.5  20.0   14.5
8-11  Peter Wong           4         9.5  15.5   10.0
      Aayush Sunil Bhari   4         9.0  18.5    9.0
      Sharan Varma         4         8.5  17.5   11.0
      Chrisiano Wong       4         7.5  16.5    6.5
12-13 Shravan Umesh Shenoy 2         9.5  15.5    5.5
      Ethan Clydesdale     2         8.0  15.0    4.0
 14   Skyla McConkey       0.5       5.0  12.5    1.5