Kelly's Heroes increase advantage in Strawbridge chase
(B&D League 2017/18 Week 15) Kelly's Heroes narrowly defeated Muldoons 2 to go 4.5 points clear at the top of Division 2.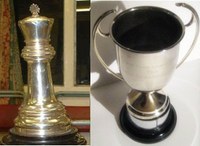 (Division 1) Ballynafeigh 1 3.5-1.5 The A Team
(Division 2) Muldoons 2 2-3 Kelly's Heroes
(Division 3) Fruithill 1.5-3.5 Strand 4
(Division 4) Ballynafeigh 4 2-3 Strand 3
Ballynafeigh 1 were a player short but still claimed victory against The A Team. WFM Karina Kruk (1672) conceded a draw to Martin Sloan (1415), but otherwise it was plain sailing for the Ormeau Road side. Kelly's Heroes claimed a slim - but important - win against Muldoons 2 to extend their lead in Division 2 to 4.5 points. Steven Eachus drew with Graeme McCormick and Martin Donaghy shared the point with William Storey, while Pat McKillen did well to beat Bobby Thompson with the black pieces. However, wins for John McKenna and Chris Armstrong ensured that the bonus points would be going to the Marlborough Park North outfit. In Division 3, Strand 4 moved into the lead with a fine performance against Fruithill. Unrated newcomer Ting Yan Lee was placed on board 1 for Strand 4, and he repaid his captain's faith in him by drawing with Ciaran Marron (1728). Neil Gardiner, playing in his first competitive game in Ulster chess in around 20 years, showed few signs of rust as he dispatched Sean Linton. Colin Burcombe (1092) scored the upset of the week with his win over Frank Carrothers (1266), while Cathan Gormley beat Neil Fisher and Gerry Collins got the home side's only win against Dexter Harris. Last but not least, Division 4 champions-elect Strand 3 beat Ballynafeigh 4 3-2.
Standings
| Division 1 | Played | Points |
| --- | --- | --- |
| Muldoons 1 | 10 | 55 |
| Strand 2 | 10 | 44 |
| Strand 1 | 9 | 43.5 |
| Civil Service | 10 | 37 |
| Ballynafeigh 1 | 9 | 32.5 |
| The A Team | 11 | 14.5 |
| Ballynafeigh 2 | 9 | 11.5 |
| Division 2 | Played | Points | Division 3 | Played | Points | Division 4 | Played | Points |
| --- | --- | --- | --- | --- | --- | --- | --- | --- |
| Kelly's Heroes | 10 | 51.5 | Strand 4 | 10 | 37.5 | Strand 3 (Champions) | 11 | 38 |
| Muldoons 2 | 10 | 47 | Ballynafeigh 3 | 9 | 34.5 | Ballynafeigh 4 | 11 | 19 |
| Bangor | 10 | 44 | Fruithill | 9 | 31.5 | Fruithill Ravens | 10 | 11 |