Muldoons 1 regain Silver King despite Strand 1 victory
(B&D League 2017/18 - postponed matches update) Strand 1 beat Ballynafeigh 1, but it isn't enough as Muldoons 1 are confirmed as B&D League champions for a second time, while Strand 4 win Division 3 after a nail-biting finish to the season.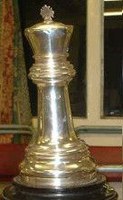 (Division 1) Ballynafeigh 1 2-3 Strand 1
(Division 2) Kelly's Heroes 4-1 Bangor
(Division 3) Ballynafeigh 3 1.5-3.5 Fruithill
Strand 1 went to the Ormeau Road needing a whitewash against last season's champions Ballynafeigh 1 to keep their slim Silver King hopes alive. Instead, Muldoons 1 won their second Silver King as the Holywood Road side could only manage a 3-2 win. Alex Goss and John Bradley kept the visitors on track with wins over Ian Woodfield and Barney McGahan respectively, and after an excellent performance at the Williamson Shield, Modestas Razbadauskas could reasonably expect to do the same against David Seaby on board 5. However, despite being a 490-point underdog, Seaby drew with the black pieces against the Lithuanian. Together with a win for Steve Scannell over Jacob Flynn (a Malahide player travelling north for the Williamson, scoring 4/6 with a TPR of 1922) and a draw between David Houston and Nikhil Joshi, this result ensured that the Silver King would be returning to Corporation Square.
The Division 3 title was also decided, with all three teams still in contention going into the final mach between Ballynafeigh 3 and Fruithill. If Ballynafeigh 3 avoided defeat, they would be champions. If Fruithill won by a margin of 4.5-0.5 or greater, they would be champions. Any other result would hand the Division 3 plate to Strand 4. The visitors fielded their strongest line-up of the season, out-rating their opponents by 375 points per board. Their top three boards, Ciaran Marron, Tony Parker and Neil Fisher, blew away their Ballynafeigh 3 counterparts to secure the match and eliminate the home side from title contention, but for the title they needed 1.5 points from the remaining two games. Frank Carrothers was held to a draw by Vincent O'Brien and Sean Linton was beaten by Barney McGahan, giving the Division 3 plate to Strand 4.
Finally, Division 2 champions Kelly's Heroes beat Bangor 4-1.
| Division 1 | Played | Points |
| --- | --- | --- |
| Muldoons 1 (Champions) | 11 | 62 |
| Strand 1 | 11 | 53.5 |
| Strand 2 | 11 | 47.5 |
| Civil Service | 11 | 39 |
| Ballynafeigh 1 | 11 | 38 |
| Ballynafeigh 2 | 11 | 16.5 |
| The A Team | 12 | 16.5 |
| Division 2 | Played | Points | Division 3 | Played | Points | Division 4 | Played | Points |
| --- | --- | --- | --- | --- | --- | --- | --- | --- |
| Kelly's Heroes (Champions) | 12 | 62.5 | Strand 4 (Champions) | 12 | 44.5 | Strand 3 (Champions) | 12 | 45 |
| Muldoons 2 | 12 | 54.5 | Fruithill | 12 | 44 | Ballynafeigh 4 | 12 | 20 |
| Bangor | 12 | 46.5 | Ballynafeigh 3 | 12 | 43 | Fruithill Ravens | 12 | 17 |