Muldoons 1 edge closer to Silver King after Ballynafeigh 2 forfeit
(B&D League 2017/18 Week 16) Muldoons 1 are just 3.5 points away from regaining the Silver King after winning by default against Ballynafeigh 2.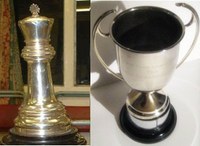 (Division 1) Muldoons 1 5-0 Ballynafeigh 2 (forfeit)
(Division 2) Kelly's Heroes P-P Bangor
(Division 3) Strand 4 3-2 Ballynafeigh 3
(Division 4) Fruithill Ravens 4-1 Ballynafeigh 4
Muldoons 1 are another step closer to the title after claiming full points as their match with bottom side Ballynafeigh 2 was cancelled after the Ormeau Road side was unable to field a team. Strand 1 have two matches in hand, but can afford to drop no more than 3.5 points over the course of their three remaining matches, including their rescheduled match against Muldoons 1 which is pencilled in for the 6th of April. The Division 2 match between Kelly's Heroes and Bangor also failed to take place as adverse weather made travel all but impossible on Wednesday night. Strand 4 extended their Division 3 lead with a 3-2 win over Ballynafeigh 3 as Ting Yan Lee continued his fine form on board 1 with a win over Tyrone Winter. In Division 4, the Fruithill Ravens gave themselves a decent shot at avoiding the wooden spoon as they beat a short-handed Ballynafeigh 4 team 4-1. The visitors' Billy Jackson (872) achieved the upset of the week with his win against Evan Elwood (1008) but otherwise it was plain sailing for the Andersonstown Road outfit as John Monaghan, Ross Hume and Ross Smith all won and James Shaw was unopposed on board 5.
| Division 1 | Played | Points |
| --- | --- | --- |
| Muldoons 1 | 11 | 62 |
| Strand 2 | 10 | 44 |
| Strand 1 | 9 | 43.5 |
| Civil Service | 10 | 37 |
| Ballynafeigh 1 | 9 | 32.5 |
| The A Team | 11 | 14.5 |
| Ballynafeigh 2 | 10 | 11.5 |
| Division 2 | Played | Points | Division 3 | Played | Points | Division 4 | Played | Points |
| --- | --- | --- | --- | --- | --- | --- | --- | --- |
| Kelly's Heroes | 10 | 51.5 | Strand 4 | 11 | 42.5 | Strand 3 (Champions) | 11 | 38 |
| Muldoons 2 | 10 | 47 | Ballynafeigh 3 | 10 | 36.5 | Ballynafeigh 4 | 12 | 20 |
| Bangor | 10 | 44 | Fruithill | 9 | 31.5 | Fruithill Ravens | 11 | 17 |