Kelly's Heroes reclaim Strawbridge Cup
(B&D League 2017/18 - postponed matches update) Kelly's Heroes secured the Division 2 title with a 3-2 win over nearest rivals Muldoons 2. Meanwhile, Strand 1's Silver King odds lengthened even further as they could only achieve a 3-2 win against Civil Service.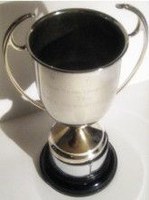 Division 1:
The A Team 2-3 Ballynafeigh 2
Strand 1 3-2 Civil Service
Strand 2 2.5-2.5 Ballynafeigh 1
Division 2:
Muldoons 2 3.5-1.5 Bangor
Kelly's Heroes 3-2 Muldoons 2
Division 3:
Fruithill 2-3 Ballynafeigh 3
Strand 4 2-3 Fruithill
Division 4:
Strand 3 5-0 Fruithill Ravens
Kelly's Heroes have regained the Strawbridge Cup after a narrow win over Muldoons 2. Previously, the Corporation Square side had beaten Bangor 3.5-1.5, leaving them a point ahead of Kelly's Heroes but with one less match to play. Going into this match, this is what Muldoons 2 needed;
To remain in the title race: draw the match, or better
To win the division: win 4.5-0.5 or 5-0
Muldoons 2 needed to improve on their result from the teams' previous meeting three weeks prior, which the Marlborough Park side won 3-2. Immediately things looked bleak for Muldoons 2 as their rivals fielded a stronger side, with a second 1600+ player in the form of David Riley. The visitors did have the 1806-rated Steven Eachus, however; could he lead his side to a vital victory? Eachus pulled out a win over Riley, but that was as good as it got for Muldoons 2 as boards 2 and 3 went according to the ratings as Graeme McCormick beat John Wood and John McKenna defeated Pat McKillen. Bernard McCaughey and Martin Donaghy both did well for Muldoons 2 as they held higher-rated players to draws, but it was not enough as Kelly's Heroes got the 3-2 win they needed to secure the Strawbridge Cup for a second time.
Strand 1 now need two whitewashes from their two remaining Division 1 matches - one of which is against leaders Muldoons 1 - as they could only beat Civil Service 3-2. David McAlister (1566) beat Calum Leitch (1849), while Mark Newman and Paul McGuigan both held significantly higher-rated players - former Ulster Champion Mike Redman, in Newman's case - to draws. Elsewhere in Division 1, Ballynafeigh 2 claimed their first win of the season, beating The A Team 3-2; a result which condemns the latter to the Division 1 wooden spoon, while Strand 2 drew with Ballynafeigh 1.
Division 3 remains finely poised after two closely-fought matches. Fruithill were surprisingly beaten by a Ballynafeigh 3 team they outrated by nearly 300 points per board, with John Price (1096) beating Frank Carrothers (1266) and Pawel Otocki (918) defeating Gerry Collins (1253), but bounced back with a victory over Strand 4. One match remains - Ballynafeigh 3 vs Fruithill - and all three teams are still in contention for the Division 3 plate:
Ballynafeigh 3 win or draw - Ballynafeigh 3 are champions
Fruithill win 3-2, 3.5-1.5 or 4-1 - Strand 4 are champions
Fruithill win 4.5-0.5 or 5-0 - Fruithill are champions
Finally, Division 4 champions Strand 3 whitewashed the Fruithill Ravens, bringing that division to a close for this season.
| Division 1 | Played | Points |
| --- | --- | --- |
| Muldoons 1 | 11 | 62 |
| Strand 1 | 10 | 48.5 |
| Strand 2 | 11 | 47.5 |
| Civil Service | 11 | 39 |
| Ballynafeigh 1 | 10 | 36 |
| Ballynafeigh 2 | 11 | 16.5 |
| The A Team | 12 | 16.5 |
| Division 2 | Played | Points | Division 3 | Played | Points | Division 4 | Played | Points |
| --- | --- | --- | --- | --- | --- | --- | --- | --- |
| Kelly's Heroes (Champions) | 11 | 56.5 | Strand 4 | 12 | 44.5 | Strand 3 (Champions) | 12 | 45 |
| Muldoons 2 | 12 | 54.5 | Ballynafeigh 3 | 11 | 41.5 | Ballynafeigh 4 | 12 | 20 |
| Bangor | 11 | 45.5 | Fruithill | 11 | 38.5 | Fruithill Ravens | 12 | 17 |