Top youngsters excel over Christmas and New Year at LJCC and Leinster Junior Championships
Just before New Year in London the top junior players meet to play in the London Junior Championships. In the New Year the prestigious Leinster Junior Championships was played. We had Ulster players do exceptionally well at both tournaments.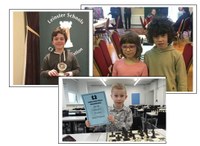 At the under8 section of the London Junior Chess Championships - Adam Fitzsimons qualifying in the Belfast Qualifier. Travelled Boxing day with his family to London. The first day I received a text from Adams Father to say 'played 3 games, lost the first, drew the second and won the third'. I thought what a brilliant start - and Adam would be playing stronger players with a score of 1.5/3 so waited with excitement and nerves for the next text - 'He just won his last game... ending with 2.5/4' - fantastic. Then 3 games the next day - what would happen - the opponents would get stronger. '5th game a draw' ... 'Just won his 6th. One left to go' ... 'Won his last match...5 points out of 7'. Its always good to play players outside of Ulster but what an absolutely brilliant result 5 out of 7 in the Under8 LJCC - sharing joint 6th place out of 80 top players. click here for LJCC results
| | |
| --- | --- |
Then I got a text from Ross Harris to say that Daniil Zelenchuk had won the Under14s at the Leinster Junior Championships.
Danill played first in the under16 section and came 3rd with a score of 4 out of 5 - brilliant. He then played in the Under14 section and came first with 4.5 out of 5 (Unbeaten!). What a result. There were 6 players from Ulster. Dexter Harris scored 4 out of 7 in the Under10s and 1.5 out of 5 in the under12. Avrora Zelenchuk scored 3.5 out of 7 in the Under10s and 2 out of 5 in the Under12s winning the prize for first placed girl in the Under12s.
Also playing and doing well were John Dawson, Jake Patterson and Ciaran Rowan. Everyone enjoyed the event - thanks to Leinster School Chess Association for organising such a brilliant and enjoyable event.
What a brilliant New Years present for Chess in Ulster.
More info on  excellent article by Ross Harris (from which I pinched photos and details) on http://childrenschessni.blogspot.co.uk/