Final Standings in Childrens Chess Grandprix 2017
With Aprils tournament over the Grandprix points have been recalculated to see who wins an invitation to the Annual Awards Ceremony at Stormont.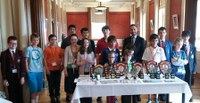 The top four places of the below Belfast Scholastic Shields will be invited to the award Ceremony in June.
Players, Parents and Teachers will enjoy a morning at Stormont with an Elite competition and an Award Ceremony in the beautiful surrounds of Stormont.
I would like to take this opportunity to thank all the volunteers, all the brilliant players and their Parents for their support.
See you at the next tournament the Mega-finals on May 13th:
http://www.ulsterchess.org/Members/ucu00450/childrenschess2017/delancey-uk-chess-challenge-megafinal
Belfast Scholastic Shield 2017
Primary School Championship
| Name | Year | Nov | Jan | Feb | Mar | Apr | Total | Best 3 | Top 4 |
| --- | --- | --- | --- | --- | --- | --- | --- | --- | --- |
| Dexter Harris | P4 | 10 | 9 | 10 | 9 | | 38 | 29 | 1st |
| Adam Fitzsimons | P4 | 6.3 | 6 | 7 | 9 | | 28.3 | 22.3 | 2nd |
| Anjali Singh | P5 | | 5 | 7 | 3.5 | 8 | 23.5 | 20 | 3rd |
| Jasper Grady | P6 | 2.5 | 3 | 3.5 | 6 | 5 | 20 | 14.5 | 4th |
| Aaditya Singh | P3 | | 3 | 3.5 | 5 | 6 | 17.5 | 14.5 | 4th |
| Birney Wang | P6 | 4 | | 5 | 3.5 | | 12.5 | 12.5 | |
| Maxim Dobrynin | P7 | | | | | 10 | 10 | 10 | |
| Katy Thornton | P7 | 2.5 | 3 | 1 | 2 | 4 | 12.5 | 9.5 | |
| Calvin Patterson | P5 | | 9 | | | | 9 | 9 | |
| Alanna Breen | P5 | 6.3 | | | | | 6.3 | 6.3 | |
| Avrora Zelenchuk | P4 | 6.3 | | | | | 6.3 | 6.3 | |
| Enzo Gowdy | P1 | | | | | 3 | 3 | 3 | |
| Kevin Wang | P5 | | | 2 | | | 2 | 2 | |
| Farida Haridy | P3 | 1 | | | | | 1 | 1 | |
| Blake Harris | P2 | | | | 1 | | 1 | 1 | |
| Ahmed Haridy | P5 | | 0.5 | | | | 0.5 | 0.5 | |
| Edward Hall | P3 | | 0.5 | | | | 0.5 | 0.5 | |
Belfast Scholastic Shield 2017
Lower Secondary School Championship
| Name | Year | Nov | Jan | Feb | Mar | Apr | Total | Best 3 | Top 4 |
| --- | --- | --- | --- | --- | --- | --- | --- | --- | --- |
| Daniil Zelenchukl | F2 | 10 | 10 | 10 | | | 30 | 30 | 1st |
| Peter Todd | F3 | 8 | | 8 | 10 | | 26 | 26 | 2nd |
| James Kane | F3 | | 8 | 1 | 5 | 10 | 24 | 23 | 3rd |
| Calvin Patterson | P5 | 1 | | 5 | 8 | 8 | 21 | 21 | 4th |
| Calum Glendinning | F1 | 6 | | 6 | 5 | | 17 | 17 | |
| Phoebe Patterson | F1 | 4.5 | 6 | 4 | 3 | 6 | 23.5 | 16.5 | |
| Louis McConkey | F2 | 4.5 | 5 | 2 | 5 | | 16.5 | 14.5 | |
| Nathan Byrne | F3 | | 4 | 3 | 3 | 6 | 16 | 13 | |
| Ryan Hammond | F1 | | | | | 4 | 4 | 4 | |
| Thomas Maze | F3 | | | | 1 | | 1 | 1 | |
Belfast Scholastic Shield 2017
Upper Secondary School Championship
| Name | Year | Nov | Jan | Feb | Mar | Apr | Total | Best 3 | Top 4 |
| --- | --- | --- | --- | --- | --- | --- | --- | --- | --- |
| Eoin McCorkindale | U6 | 9 | | 10 | 10 | | 29 | 29 | 1st |
| Jake Patterson | U6 | 9 | 10 | | | 10 | 29 | 29 | 1st |
| Hannah Patterson | F5 | 6 | 8 | 5.8 | | | 19.75 | 19.75 | 3rd |
| Sam Todd | F5 | 3 | | 5.8 | 5 | 8 | 21.75 | 18.75 | 4th |
| Adam Rushe | F4 | | 5.5 | 5.8 | 7 | 6 | 24.25 | 18.75 | 4th |
| Ciaran Rowan | F4 | 5 | 5.5 | 5.8 | | | 16.25 | 16.25 | |
| Edward Doak | L6 | | | | 7 | | 7 | 7 | |
| Scott Murray | U6 | 3 | | | | | 3 | 3 | |
| Matthew Gray | U6 | 3 | | | | | 3 | 3 | |
Belfast Scholastic Shield 2017
The Belfast Scholastic Edward Whiteside Shield:
Primary Puzzle Solving Chess Champion
| Name | Year | Nov | Jan | Feb | Mar | Apr | Total | Best 3 | Top 4 |
| --- | --- | --- | --- | --- | --- | --- | --- | --- | --- |
| Aaditya Singh | P3 | | 10 | 8 | 8 | 9 | 35 | 27 | 1st |
| Anjali Singh | P5 | | 3 | 6 | 10 | 9 | 28 | 25 | 2nd |
| Calvin Patterson | P5 | 10 | 8 | 4 | 4 | 5 | 31 | 23 | 3rd |
| Adam Fitzsimons | P4 | 5 | 5 | 10 | 6 | | 26 | 21 | 4th |
| Jasper Grady | P6 | 2 | 5 | 2 | 5 | 4 | 18 | 14 | |
| Katy Thorton | P7 | 2 | 1 | 1 | 2.5 | 6 | 12.5 | 10.5 | |
| Farida Haridy | P3 | 8 | | | | | 8 | 8 | |
| Dexter Harris | P4 | 2 | 5 | | | | 7 | 7 | |
| Birney Wang | P6 | | | 3 | 2.5 | | 5.5 | 5.5 | |
| Alanna Breen | P5 | 5 | | | | | 5 | 5 | |
| Avrora Zelenchuk | P4 | 5 | | | | | 5 | 5 | |
| Sharan Varma | P6 | | | 5 | | | 5 | 5 | |
| Enzo Gowdy | P1 | | | | | 3 | 3 | 3 | |
| Maxim Dobrynin | P7 | | | | | 2 | 2 | 2 | |
| Edward Hall | P3 | | 1 | | | | 1 | 1 | |
| John Hall | P2 | | 1 | | | | 1 | 1 | |
Belfast Scholastic Shield 2017
The Belfast Scholastic Fergus O'Neill Shield:
Secondary Puzzle Solving Chess Champion
| Name | Year | Nov | Jan | Feb | Mar | Apr | Total | Best 3 | Top 4 |
| --- | --- | --- | --- | --- | --- | --- | --- | --- | --- |
| Eoin McCorkindale | U6 | 10 | | 8 | 10 | | 28 | 28 | 1st |
| Daniil Zelenchuk | F2 | 6 | 10 | 10 | | | 26 | 26 | 2nd |
| Adam Rushe | F4 | 0.5 | 6 | 6 | | 10 | 22.5 | 22 | 3rd |
| Jake Patterson | U6 | 4 | 8 | | | 6 | 18 | 18 | 4th |
| Ciaran Rowan | F4 | 0.5 | 4.5 | 4.5 | | | 9.5 | 9.5 | |
| Calum Glendinning | F1 | | | 4.5 | 4 | | 8.5 | 8.5 | |
| Peter Todd | F3 | 8 | | | | | 8 | 8 | |
| Ryan Hammond | F1 | | | | | 8 | 8 | 8 | |
| Louis McConkey | F2 | | 1 | | 5.5 | | 6.5 | 6.5 | |
| Thomas Maze | F3 | | | | 5.5 | | 5.5 | 5.5 | |
| Nathan Byrne | F3 | | 4.5 | | | | 4.5 | 4.5 | |
| Matthew Gray | U6 | 4 | | | | | 4 | 4 | |
| Scott Murray | U6 | 4 | | | | | 4 | 4 | |
| James Kane | F3 | | 3 | | | | 3 | 3 | |
| Dylan Breem | F3 | | | 3 | | | 3 | 3 | |
| Sam Todd | F5 | 2 | | | | | 2 | 2 | |
| Phoebe Patterson | F1 | | 2 | | | | 2 | 2 | |
Last Years winners: