Season Preview 2008/09
The world of Ulster Chess gets back in full swing on November 4th, as its finest players and most eccentric personalities don the identities of their respective teams and square up to discover who'll be taking home the Silver King after season 2008/09.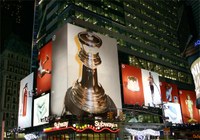 Last time it was QUB who left all trailing in their wake as they abruptly ended Clifton House's run of 3 consecutive Championships. The University outfit not only took the title, but stamped their superiority over their rivals by beating both nearest challengers - Clifton House and Fisherwick - by 5-0 scorelines. Ever since those back-to-back results were notched up last February, Queen's have firmly established themselves as the team to beat in Ulster Chess.
Now Chris Millar's team have to do it all over again though and it will be in a new look Division 1. Gone are North Belfast and Clifton House, back are Bangor and RVH.
A full preview, complete with video trailer, is available here: