QUB Chess Crush the Credit Crunch
On Saturday February 7th QUB Chess is crushing the credit crunch with the QUB Rapid 2009!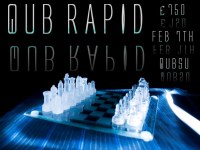 The whopping £750 prize fund will make the competition the richest ever one day event in Ulster chess. Not only is the money good, but with players like former Ulster Champ Stephen Gillen (2264) already confirmed and the typical influx of fresh faces at a QUB event, the tournament is surely one not to be missed! Full details:
http://quis.qub.ac.uk/chess/qubrapid2009.htm
 
Before that...
 
QUB Students' Union hosts your chance to take on the internationally rated Chris Cohrs (FIDE 2211), as he gives a simul display on Monday Feb 2nd. Can you outwit the German doctor, or will it be another case of vorsprung durch technik?