QUB Sail Past Lagan Challenge
After last week's crucial victory over Fisherwick, the chess stars of Queen's University Belfast continued on their tour of south Belfast with a trip down the road to face Lagan in the Belfast Boat Club.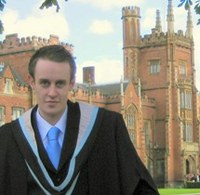 Masterminding another QUB title triumph?
The context of this week's match had been well defined with a result from the previous evening - RVH 1-4 Fisherwick. Fisherwick's stonking win was practically required to drag the "Evil Empire" back into the mix, but also served to to undo much of RVH'S diligent work in so ruthlessly and efficiently dismissing the weaker sides. Above all perhaps, it left the path clear for QUB to place themselves firmly in the driving seat with a win.
However, what would normally be seen as an excellent opportunity was starting to feel more like a real banana skin fixture. With their top board missing and other team members hit by illness and exams, the champions felt less invincible than usual.
The full story is available here:
http://quis.qub.ac.uk/chess/qubb.htm#lagan2
Coming soon:
http://www.ulsterchess.org/Members/ucu00353/williamson-shield-2009
http://quis.qub.ac.uk/chess/chriscohrssimul.htm