New Boys Bangor Busted by Champs
A year is a long time in Ulster chess.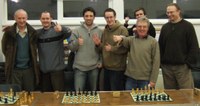 Remember what happened last time QUB went to Groomsport?
In season 2007/08, the opening week's fixture list saw then champions Clifton House meet then Division 2 winners Queen's. Now the brand new 2008/09 season sees Clifton folded and QUB starting the year as champions themselves. Nevertheless, it was title holders versus new boys again, this time as the University side travelled to Groomsport Parish Halls to face Bangor.
The seasiders line up was packed full of Bangor stalwarts. Eddie Whiteside lead from the front, followed by Alan McConnell, Paul McLoughlin, Albert McCarter and Kevin Agnew. In contrast, the QUB team featured only two of last season's regulars, as they fielded Chris "the German doctor" Cohrs, Steve Scannell, Eamonn Walls, Andrew Higgins and Chris "I drew with an IM" Millar.
For the full story, go to:
http://quis.qub.ac.uk/chess/qubb.htm#bangor1
*NB all league captains, get the finger out and e-mail all results to: