Table Toppers Share Spoils
Champions QUB entered round 4 of the league season leading the table, but it's tight at the top. Only half a point behind the University side going into the fixture were this week's opponents, RVH.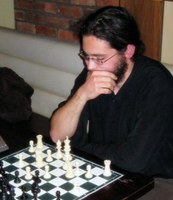 Promoted RVH had made an impressive start to Division 1 life, soundly thrashing both Bangor and Lagan. However, a defeat to title rivals Fisherwick produced doubts over whether the new boys could quite cut it with the strongest sides in Ulster Chess's Premier League. No better an opportunity to cast aside those doubts could have presented itself than a fixture against Queen's.
Bolstering the Clifton House... sorry, RVH line up [people in glass houses should remember the old saying - ed.] was Des Moreland. He replaced Ryszard Kaczorowski to play on board 4 alongside Michael Holmes, Gareth Annesley, Nicholas Pilkiewicz and Ciaran Marron. QUB fielded exactly the same team that had played in every game so far this campaign - a rare novelty for a Chris Millar side.
Full report here:
http://quis.qub.ac.uk/chess/qubb.htm#rvh1
And don't forget the Blitz is coming...