Unstoppable Queen's Decimate Fisherwick
Fisherwick v. Queen's; table toppers v. champions; Evil Empire v. European heavyweights. In short, the biggest league clash in the recent history of Ulster Chess.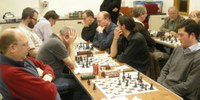 The Evil Empire were clearly desperate to reverse the sweeping tide of recent QUB dominance, which has not only kept Fisherwick short of silverware but seen off Clifton House altogether. Fisherwick therefore drafted Stephen Morgan into their line up for his first league appearance of the campaign. Morgy has been sitting as a free agent since the fall of Clifton in 2008, but Michael Waters (presumably) drafted him in right at the time when it seemed he could make maximum impact.
When the teams were announced it appeared Fisherwick had finally succeeded in turning the tables on Chris Millar - the hitherto undisputed king of surprise team selections and shock "guest appearances". A switcharoo had been pulled, and it was Fisherwick who had pulled it.
If the evening wasn't big enough already, it most certainly was now.

Full story: