Whitewashing the Wannabees
With Division 2 racing towards a final day decider between QUB B and Fisherwick B on April 21st, Queen's captain Damien Cunningham reports on the University's progress in their bid to win the John Strawbridge Trophy. The coverage of the title run in starts with Cunningham's team making the journey to bottom side Bangor Wannabees.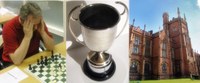 We had to secure a 5-0 score line if we were to maintain the pressure on Fisherwick B who have been throwing their big guns against lesser opposition of late in an attempt to claw back some of the cushion that "Queens A-" are building for themselves. If we could secure the 5-0 score line then we would be only 3pts behind with a game in hand - an excellent position to be in with only 3 games left. With Fisherwick being the last game of the season the bigger the cushion the better.
Full report: