Back in the Winning Groove
Last week's horror show mauling at the hands of the Evil Empire left Queen's desperate to return to winning ways as quickly as possible. Standing in their way were fourth place Lagan.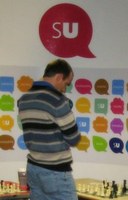 Chris Cohrs
QUB have thus far had little trouble with the Boat Club side but, when Lagan get their full team out, even the big boys have to be careful. Lagan's opening day 4-1 victory over Fisherwick still hangs like a spectre over the current leader's title charge and serves as a warning to all others not to take them lightly.
Travelling to the Peter Froggatt Centre for the visitors was a line up of Esmonde, Moore, Harvey, Jackson and Storey. They would face a host side returned to its regular five of Scannell, Cohrs, Walls, Higgins and Millar.
For a full account of the evening's proceedings, visit:
http://quis.qub.ac.uk/chess/qubb.htm#lagan3
For league tables of both Division 1 and 2, go to:
http://www.ulsterchess.org/Tourney/resultsservice/competitions/comp-40/cvt_event/154/standings#standings
http://www.ulsterchess.org/Tourney/resultsservice/competitions/comp-41/cvt_event/155/standings#standings