Queen's Teams Enjoy St.Patrick's Day Demolitions
While University students were laying waste to the Holylands, the University's chess teams were setting out to do likewise to their visitors in the Peter Froggatt Centre. Although much less alcohol fuelled, the damage dished out by Queen's to the opposition was equally unforgiving.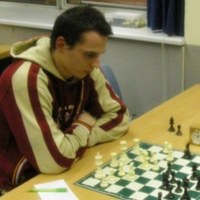 Lukasz Kwiatek
In Division 1, Champions Queen's were aiming for a big win against bottom side Bangor to go clear first in the race for the title. Any win would see them move into top spot after three complete rounds of fixtures. Looking to resurrect their Division 2 challenge after a recent blip were Queen's seconds. Even a 5-0 win would still leave them a point behind Fisherwick B, so every point was crucial.
William McGrattan's Bangor brought a familiar looking side. The seasiders lined up from one to five with Eddie Whiteside, Alan McConnell, danger man Paul McLoughlin, William McGrattan and Walter Wilson. Kevin Agnew was also on hand to offer moral support.
QUB were without one of their star performers (one of their many star performers), as Andrew Higgins was off gallivanting in Dublin. Therefore Lukasz Kwiatek slotted in on board 4 alongside Steve Scannell, Chris Cohrs, Eamonn Walls and Chris Millar.
Full report: