Makeshift QUB Move Closer to Title
Last week's superb 4-1 spanking of Fisherwick undeniably made reigning champions Queen's clear favourites to lift the Silver King in 2009. However, there were still 3 games to go until the season's end. James Bond never has enough time to relax and have a cup of tea before saving the day. Chris Millar, 007 of Ulster Chess, was to find things little different.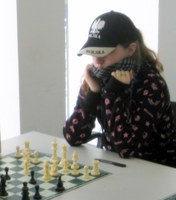 For this week's trip to Bangor the University captain found himself without one of last week's heroes, Chris Cohrs, who was using the Easter break to enjoy a holiday back home in Germany. An eleventh hour replacement was finally found the day before in the shape of John "Sultan of Solid" McKenna, who lived up to his nickname by delivering on the first rule of league chess: "be there".
However, no sooner had Cohrs been replaced than another ace marksman, Andrew Higgins, also informed his captain that he would not be available. Answering the call to fill in this time was one of the stars of Tuesday night's Blitz, playoff winner of the best female player prize – Karina Kruk. The Polish youngster was totally unfazed at having less than 24 hours notice to play a potentially crucial cameo role in deciding whether Queen's would be back-to-back Ulster Champions for the first time since 1970. Karina only seemed to see the chance to continue making a name for herself by starring for the best team in Ireland, and proceeded to do precisely that.
Report: