Ulster Team Rapidplay Championships 2018
The Ulster Team Rapidplay Championships 2018 were played on Saturday 3rd February at the Good Shepherd Centre. A report of the event hot off the press from the brilliant organiser Brendan Jamison. With 72 players and some great chess.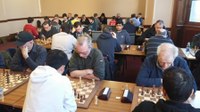 Ulster Team Rapidplay Championships 2018
Report by Chief Arbiter Brendan Jamison
On Saturday 3rd February, the Ulster Team Rapidplay Championships were held at the Good Shepherd Centre on the Ormeau Road in Belfast. A total of 
72 players competed over two large rooms,
making it the largest chess tournament held in Northern Ireland over the past 10 years. Competitors ranged in age from 8 to 70 year olds and travelled as far away as Derry and Dublin. There was a wonderful buzz in the air and children enjoyed playing on the giant chess set in-between rounds.
The tournament welcomed back multi-award winning champion Gabor Horvath who played top board for Strand 1, the team that dominated the senior section to secure the shield with 19.5 points from 25. In comfortable second place, Muldoons finished on 15 points, with Ballynafeigh 1 ending on 12 points to take 3rd place.
The intermediate section saw the three top seeds of Bangor, Derry and Belfast South all enter the last round with only half a point between them. After a very close battle, Bangor triumphed with 17 points, with Derry finishing 2nd on 16 points, no mean feat considering they only had four players. Third place went to Belfast South.
The junior section saw the teenage team of Strand 3 win the championship with 15 points, while Strand 4 ended on 12 to lift 2nd place and Ballynafeigh 2 came 3rd.
The highest scoring players on each board are listed below. Well done to all the competitors and thank you for such a fun day.
Board Awards for Ulster Team Rapidplay Championships 2018
Senior Section:
1. Gabor Horvath (4/5 = 80%)
2. Nikhil Joshi (4/4 = 100%)
3. Lee Ting Yan (3/4 = 75%)
4. Colin Burcombe (4/5 = 80%)
5. Daniil Zelenchuk (3/3 = 100%)
Intermediate Section:
1. Niall Troughton (5/5 = 100%)
2. Brendan Jamison (4/4 = 100%)
3. Chris Armstrong (5/5 = 100%)
4. Martin Kelly (4/5 = 80%)
5. Craig Stevenson (3/3 = 100%)
Junior Section:
1. Adam Rushe (3/5 = 60%)
2. Evan Elwood (3/3 = 100%)
3. James Corscadden (3/4 =75%)
4. James Wong (4.5/5 = 90%)
5. Louie McConkey (4/5 = 80%)
WINNING TEAMS:
SENIOR SECTION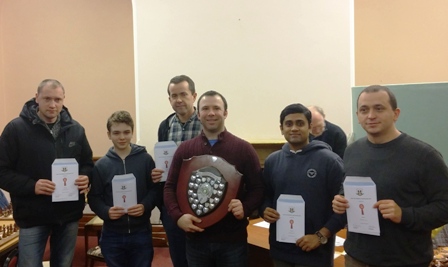 Team Champions: Strand 1
Gabor Horvath
Nikhil Joshi
David Hill
Ross Harris
Modestas Razbadauskas
Daniil Zelenchuk
INTERMEDIATE SECTION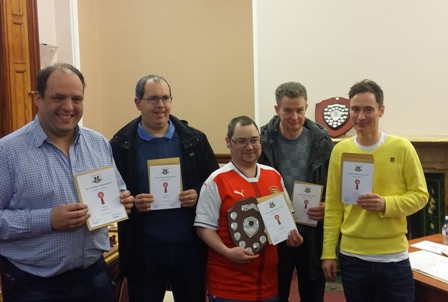 Team Champions: Bangor
Alan McConnell
Brendan Jamison
Sam Moore
Gary Johnston
Andy Boal
JUNIOR SECTION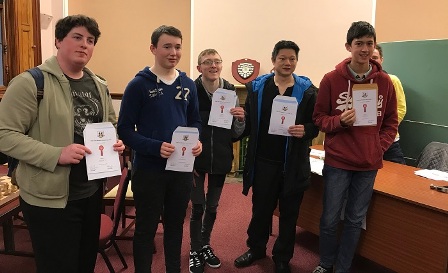 Team Champions: Strand 3
Adam Rushe
Ciaran Rowan
Michael Wong
James Wong
Louie McConkey