Ulster Masters 2017
A thrilling weekend of chess saw three closely fought sections, with 10 players scooping prizes on the Sunday evening.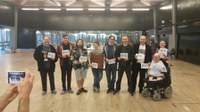 Students' Union, Queen's University Belfast
October 13-15, 2017
Tournament Report by Arbiter Brendan Jamison
The senior section welcomed two entrants who travelled up from Dublin, Manuel Cabanas Jimenez(2095) and Alex Goss (1714). Both players greatly enriched the tournament, with Jimenez finishing in joint 2nd with 4/6 alongside Stephen Rush (1901), however, the Median Buchholz tie-break allocated Rush with the 2nd place prize. Meanwhile 16-year-old Goss scooped the Under 1750 Grading Prizeand we look forward to seeing him return to more Belfast tournaments again soon.
Entering the senior section as the number 7 seed, Mark Newman (1707) delivered the best play of his life, with a tournament performance rating (TPR) of 2111. One by one, his competitors succumbed to his strong positional play and cool head under time pressure, culminating in a final score of 5/6, a clear point ahead of his nearest rivals. Congratulations to Newman, crowned the Ulster Masters Champion 2017. For someone who has contributed so much to local chess for decades, it is wonderful to see him walk away with a major cup of this nature. In a typical year, Mark will run 8 children's tournaments, 4 Civil Service quick-plays, the 5 month Summer Tournament from May to September each year, organises Cafe Chess at Belfast Culture Night and he also acts as arbiter for many of the major weekend tournaments in Belfast. This is a giant voluntary service to our local chess community so unsurprisingly the room erupted with a massive round of applause when Mark was presented with his champion's cup!
The intermediate section saw 8 players battle it out in the 1200-1650 category. Finishing in 3rd place and scooping the Under 1550 Grading Prize, Cathal Murphy (1333) delivered a TPR of 1575 and was in no-way intimidated by the other power-houses in his section. The 2nd place winner was decided in a round 6 time-scramble between Martin Kelly (1338) as White against number 1 seed Robert Lavery(1603). Kelly dispatched his trademark Vienna Gambit. By the middlegame he was a piece up but Lavery kept a level-head and superior time control, exerting continued pressure on White's exposed King. In the end, Lavery won the game and deserved his 2nd place prize with 4.5/6. The player who dominated all others was 14-year-old Daniil Zelenchuk (1568), finishing on 5.5/6 and crowned the Intermediate Champion. His next rating should definitely propel him into the senior section of all upcoming tournaments.
The junior section saw 7 players compete from the new Strand Chess Club, with 16-year-old Adam Rushe (===) winning the Under 950 Grading Prize. We look forward to seeing his chess career develop in the season ahead, along with 9-year-old Dexter Harris (1005) who won the certificate for 'Best Young Player of the Tournament'. Two players in this section demonstrated an inspiringly strong focus and stamina, both finishing on an impressive 5/6. Again, Median Buccholz was deployed for the final ranking with number 7 seed Paul Anderson (882) awarded 2nd place, delivering an exceptional TPR of 1209. The Junior championship was won by Adrian Dornford-Smith (1082) who entered the tournament as number 1 seed and did not fail to meet the expectations as he brushed off the opposition in-between co-ordinating the 6 live boards! A total of 36 games where broadcast live on the internet and they all remain on the archive at www.ulsterchess.net, a sister-site which was expertly set-up by Adrian. We had a record number of visitors watching the games online and also tuning into the webcam.
Our next event is the Omagh Rapidplay on Saturday 25th November 2017. The Arbiter is Ross Harris. Remember to register early for this event. See you all again soon for more chess fun and good luck to all teams starting the new league season this week…
PRIZES AWARDED AT ULSTER MASTERS
Senior Section:
Champion: Mark Newman (1707) Score: 5/6
2nd Place: Stephen Rush (1901) Score: 4/6
Under 1750 Grading Prize: Alex Goss (1714)
Intermediate Section:
Champion: Daniil Zelenchuk (1568) Score: 5.5/6
2nd Place: Robert Lavery (1603) Score: 4.5/6
Under 1550 Grading Prize: Cathal Murphy (1333)
Junior Section:
Champion: Adrian Dornford-Smith (1082) Score: 5/6
2nd Place: Paul Anderson (882) Score: 5/6
Under 950 Grading Prize: Adam Rushe (===)
Certificate for Best Young Player of the Tournament: Dexter Harris (1005)