Belfast Culture Night 2018 lots of chat, coffee and chess
The UCU had two cafes this year. Costa Cafe at Victoria Square and our long term location of Caffe Nero at Lombard Street. Chess, good company in the surrounds of the brilliant atmosphere of Belfast Culture Night.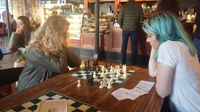 This is one of the fun chess events of the year. Where we get to meet new players and enjoy our favourite game and a cup of warm friendly coffee. Whilst sharing thoughts on life. I met players from Syria, New York, France, Russia, Antrim, Students and tourists, teachers, computer programmers, electronic engineers....
Adrian Dornford-Smith setup the chess sets at Costa Cafe at 3:00pm and stayed the evening until about 11:00pm - heres a description in his own words of the evening (with some photos):
"Seeing Squares in Victoria Square
The UCU branched out for this year's Belfast Culture night. We were playing chess ato two venues this year. In addition to the Nero's in Rosemary Street we were also showing the joys of chess to people in Victoria Square at Costa Coffee there. The venue was quieter than Rosemary Street, and some serious games were played, both at a gentle pace and various more frenetic blitz and even bullet speeds. From intense youngster to old hands who hadn't played for years, the plastic was pushed well into the night. Chris Hamill managed to send a prospective new player away with a smile on his face, so well done Chris. Thanks also to Colin Burcombe for giving Adrian a few quick roastings. Several UCUers were moving between the two venues, James Wong and Aaron Wallflart showing we are not all old fossils. Lee Ting Yan was cycling between the venues and throwing himself into all the delights that Culture night has to offer. Thanks also to Cathal Murphy and Phillip Morrison with their unique sartorial elegance in both dress and chess, entertaining the onlookers. Hopefully we rekindled a few chess flames, certainly lots of fun was had and of course loads of cultural enlightenment." - Adrian Dornford-Smith
As in previous years we handed out fliers with details of local chess clubs and the timetable for the Schools Chess tournaments. Together with these went a flier with 5 beautiful and challenging chess puzzles. I show these below for your solutions - the final solutions are given at the bottom of this article.
At Caffe Nero we also started about 3:00pm - it was windy and wet we put out sets on the outside tables together with the large set. A couple of people stopped and played but unfortunately a gust of wind blew the large set over and some of the small sets were swept off their tables so we reset our sets inside the cafe. Ross Harris and Dexter and Blake who were there when we arrived took up a couple of sets and played. The large set was left in its box with the hope that the weather would improve. So we had about 14 sets spread on various tables inside the cafe. Soon all the boards were being used. Its brilliant when all you have todo is put out a chess set and it gets used. Cathal Murphy and Philip Morrison played a couple of games before they got out a backgammon set and played - it turns out that they regularly play and even go to backgammon tournaments. There was  a steady flow of people. The weather improved and we eventually put out the large set. Where we had some brilliant games - helped with Geoff Hindley, Damien Cunningham and Rhys McLean. The large set was a focus for passersby to watch and guess the next move. Geoff was assisting a young lad play against me and it was fun just to watch them talk over the position waving hands at pieces and talking if that goes there then that might happen..... The staff of Caffe Nero were fantastic. We even had live music in the cafe which added to the brilliant atmosphere. At the end of the evening people were reluctant to end their games! - we gathered the sets  and said our farewells - an evening of chat, chess and coffee - see you next year at the same event.....
Thanks to all the chess players, the Costa Cafe and the Caffe Nero and the Organisers of the Belfast Culture Night - we all enjoyed ourselves.
Photos and then solutions to the problems:
Solutions to the problems:
problem 1.

a) Ng6+

b) f5

c) Qxf7

Solution:

c)

1. Qxf7+ Nxf7

2. Ng6 mate

 

problem 2.

a) Qh4

b) Qe5

c) Rxh7+

Solution:

b)

1. Qe5 now choices

if 1. ....  Bxe5

2. Bxe5 mate

if 1. ... Qxe7

2. Qxe7 Bxe7

3. Be5+ followed by mate

Problem 3.

a) Rxf7

b) Qe6

c) Qg3+

Solution:

c)

1. Qg3+ Kh8

2. Qe5+ Kg8

3. Qg5+ Kh8

4. Rxf7 Qxf7

5. Qd8+ Qg8

6. Qf6+ Qg7

7. Qxg7 mate

Problem 4

a) Qb5

b) Ra7

c) Rca5

Solution:

b)

1. Ra7 choices

if 1. ... Qxa7

2. Rxc8+ winning the rook and

getting back the Queen.

If the Queen moves we have Rxd7

winning a Rook.

Problem 5

a) ... Ng4

b) ... Qh3

c) ... Qxh2+

Solution:

c)

1. ... Qxh2+

2. Kxh2 Ng4+

3. Kg1 Nh3+

4. Kf1 Nh2 mate