Williamson Shield centenary edition
The Williamson Shield was first awarded in 1912, the year of the Titanic's doomed maiden voyage. The centenary edition of this ever popular chess tournament will be held over the weekend of 3rd-4th March at the Maynard Sinclair Pavilion in the grounds of the Civil Service Club, Stormont.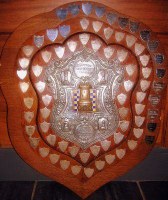 We look forward to seeing you there to celebrate 100 years of the Williamson Shield.