Aaditya and Anjali travel to the London Junior Chess Championship
Two of our youngest players travelled to play in the very prestigious London Junior Chess Championship at the end of December 2017.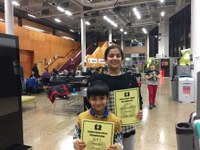 It is brilliant to see young players travel and play against the toughest opposition they can find.
We are lucky enough to be able to run every year in November the Belfast Qualifying tournament for the London Junior Chess Championship - a very prestigious tournament. The players in this London tournament are the future of the top chess circles.
Its always a pleasure to see our players going to such tournaments and not just holding their own but doing well.
Aaditya Singh played in the Under 8 section and scored an excellent 4 out of 7 games.
Anjali Singh played one age group above her age in the Under 12 section and gained the experience of longer games - ( 2hour games) and very tough opposition - she gained a good 2 points out of 9 games over 3 days - lots of chess.
In the words of their father Ranjit - also an up and coming chess player :
"It was good LJCC experience and 4/7 for Aaditya. It was tough for Anjali to play under 12 instead of under 10 but she enjoyed and managed 2 wins from 9. Her 3 games lasted for over 2hrs a few close losses for both. They were talking about French defence, Fried Liver, Kings Indian, Silician etc. Excellent learning experience. We had great time in London"
On their return they were both award the UCU Playing Away Award.