Ulster Intermediate & Junior Results
#33 "Rookie": Irish News 7th December 1983 Similar to #32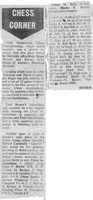 Fisherwick Club Championship, which ended recently, was a victory for youth with first place shared by Methody schoolboys Roger Beckett and Kieran Greer ahead of Antrim's Diarmuid Simpson.
Grading prize went to John McKenna and David Coulter. But Roger was jolly unlucky to end a run of 13-games without defeat in the first round of the recent Ulster Intermediate, when his opponent Martin Kelly sacrificed a rook and queen for smothered mate.
Tom Brown's schooldays will certainly be a lot happier after winning the Intermediate as expected, but bottom seed Fred MacDonald, had a form upsetting performance in finishing joint second.
Another upset of form at Queen's took place in the Ulster Junior where Carrick's Samuel Campbell's "superior" play belied his low grading, derobing D. Robb (Shorts), top seed and favourite of the Ulster Junior crown everyone expected Robb to win.
Competition Results
Ulster Intermediate: Albert Long Cup
T. Brown 5 pts
F. MacDonald, A. Cootes, H. Beckett 4 pts
E. McMullan 3½ pts
grading prize: M. Kelly 3½ pts
Ulster Junior: Arthur Pinkerton Cup
S. Campbell 5½ pts
N. Tweedie, J. Harvey, A. Beckett 4½ pts
P. Lambe, D. Robb 4 pts
Grading prizes: B. Thompson 4 pts, G. Tiernan 3 pts
Media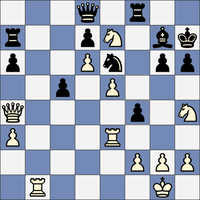 This week's game illustrates a rare smothered mate with a Rook and Queen sacrifice from this position!