Williamson Shield 2008
As is tradition, the final weekend of January marked the first major Ulster Chess competition of the new year - the Williamson Shield 2008. The prestigious Williamson saw a new year and new faces but a familiar winner, as QUB's Steve Scannell lifted the famous shield for a remarkable seventh time. Scannell now lies just one victory short of the late great Tom Clarke's total of eight wins. Steve was delighted to be taking home the magnificient trophy for another year, not to mention the £100 winner's cheque along with it.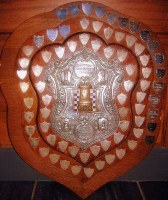 The magnificient Williamson Shield, donated over a century ago
Scannell raced to 5 wins from 5, before being made to sweat by Bombardier's Mark Newman in the final round. Steve decided to eschew safe play - despite only needing a draw to secure clear first - and the former Bangor team mates found themselves in a complex, wide open position offering scarce shelter for centralised kings. Unbeknownst to the competitors, live Fritz analysis actually had Newman as somewhat better for a while. The complexities on the board and Scannell's trailing on time led him to offer an accepted draw. This half-point guaranteed another first for Steve, who in the end was to finish top by a full point.
That was because the final round's battle for second place, between Gareth Annesley and Wenceslao Torres, could only produce a draw also. As a result, Annesley and Torres of Lagan shared the runners' up prize with 4.5 points each. Annesley has been making a habit of being Steve's bridesmaid in recent tourneys, while Torres enjoyed laying down another marker that his rating is considerably lower than it now should be.
Both grading prizes were also shared. The under 1600 prize was split between Stewart McConaghy, William Storey and John Phillips, who each scored 3.5 points. 3 points was enough, meanwhile, for the RVH's John Monaghan and Pearse O'Brien to share the under 1200 prize.