City of Belfast Championships 2008
QUB's Steve Scannell continued his domination of Ulster Chess weekenders, this time by notching up another clear first in the City of Belfast Chamionships. In retaining the Nemztov Cup, Scannell secured his sixth successive UCU weekender win.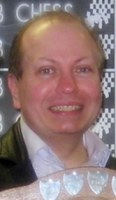 A smiling Steve
Steve finished on 5.5/6 points, with his one draw coming against Nicholas Pilkiewicz of Clifton House. After starting off with a win against Wenceslao Torres, the Ulster Champion was pushed all the way by Bombardier's Mark Newman. However, after coming through this scare unscathed, Scannell then beat Danny Mallaghan and Gareth Annesley on his way to taking the trophy.
Annesley and Pilkiewicz shared second, as William McrGrattan earned the grading prize on tiebreak ahead of Joseph Mordeno.
Alan Burns, meanwhile, refound top form to land the Henderson Cup (under 1600) with a perfect 6/6. Six points, but doubtless innumerable gambits from a Burns back to his best. John Monaghan of RVH continued to make a name for himself, this time beating Richard Proctor again to lift the "David and Goliath" prize.
Final standings in both sections are available in the UCU Results Services
and at David McAlister's Ulster Chess Chronicle:
http://www.rct26.dial.pipex.com/cityofbelfastfestival_2008.htm