Scannell Superb in Simul Success
A fine February evening saw the Ulster Champion, Steve Scannell, take on all-comers and all at once in Queen's University Belfast. Room 208 of the Peter Froggatt Centre, packed to full capacity, hosted QUB Chess Club's first major event of 2008. It was a hugely successful night for both the club and Scannell, with the impressive turnout only outdone on the evening by Steve's performance, as he remarkably recorded 11 wins and just one draw from the 12 games.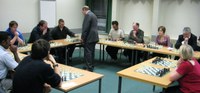 Scannell sets off on his first lap of the players
The players involved represented an excellent cross-section of the Ulster Chess community. League players such as Cathal Murphy of RVH and Chris Armstrong of Lagan were well-flanked by UCU veterans like Geoff Hindley. Some of the stronger QUB members of course participated, including Zul Zulkifli (fresh from a particularly good 4/6 at the Ulster Rapid) and Robert Lavery (who defeated Scannell during his last simul display). They were complemented by some new to the club this year such as Laura Stronge, Gianluca Sarri, PJ Mallon and Jonathan Rodgers, plus those new to the club that evening, such as Tito Thomas and John Steen.
All the competitors put Steve through his paces, but special credit goes to Caroline Downey - the sole player to take even a draw off Steve on the night. Caroline held off Scannell's onslaught, while each of the other competitors were, one-by-one, put to the sword by the American.
Congratulations to Steve, who put on an excellent show for those who played and enjoyed a great evening of chess. Having already recorded two wins out of two in the league for 2008 and recaptured the Williamson Shield, the Ulster Champion has started the year in as blistering form as ever.
No doubt, therefore, Scannell will be among the leading contenders for the £200 prize up for grabs in the QUB Rapid on February 16th. This next event is targeted at players of all playing strengths though, so make every effort to get involved! Full details here:
http://quis.qub.ac.uk/chess/qubrapid2008.htm
More pics and video content of the simul event can be found here:
http://quis.qub.ac.uk/chess/tourneys.htm#stevescannellsimul08