Ulster Rapidplay Championship December 2007
QUB's Steve Scannell retained his title as Ulster's best rapidplay player, finishing clear first with a perfect 6 points from 6 at the Belfast Boat Club.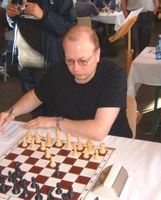 Steve Scannell, Ulster Rapidplay Champion 2007
This was the third time this competition had been run during the Christmas/New Year Holiday period. Exactly a year previously on the 30th December 2006 Scannell dropped a half-point on his way to first place, but on this occasion was in no mood for such generosity.
Gareth Annesley of Clifton House, one of three joint-winners of the January 2006 edition, put his off-colour league form behind him to play strongly, only losing to Scannell to finish second.  Queen's players Calum Leitch and David O'Donnell commuted from Preston and Omagh respectively to tie for third with four points from six. Fellow QUB players Damien Lavery and Zulhasrifal Zulkifli also performed well to land the grading prizes. This was an especially good showing for Zul, who was playing competitively for the first time in several years.
In 2007 Scannell has remarkably won every senior Ulster Chess Union individual tournament. Steve lifted the Williamson Shield in January (his sixth); won the City of Belfast Championships in June (for the fifth time); claimed the Ulster Individuals Championship in August (getting his name on the McSparran Cup for the sixth occasion); and of course retained the Ulster Rapidplay Championship in December. In addition to these UCU titles, Scannell also claimed the prestigious Hammel Cup during the summer with his victory in the Civil Service tournament. All the more impressively, no tiebreaks were required - Steve finished clear first in each competition.