Bangor Chess Congress
#22 "Rookie": Irish News 28th September 1983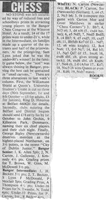 No stone was left unturned by way of reduced fees and schoolboys prizes in attracting young players to the Bangor Chess Congress at the Winston Hotel. As a result, 14 or the 17 prizes went to under-21ś , while in the Intermediate, six families made up a quarter of the entrants and half of the prize-winners. At the prize-giving, Sam Lynn joked that he was the under-80's winner!
In the family game below, the "son" was always shining in Bangor, proving the best can be contained in "small cartons".
There are three alterations to last week's column:
First, the Williamson Shield at Queen's University Student's Union is cut to three days (30th September, 1st and 8th October - £5 for adults, £3 for juniors. Ring D. Houston at Belfast 660620 for details
Secondly, clubs entering the Belfast and District leagues should send £18 entry fees by 1st October to John Orchin, 9 Killeaton Park, Dunmurry, naming their six chief players and their club night
Finally, George Bigley (Newtownards) deserves mention as the highest-placed Northerner, on 3½ points in the recent City of Dublin, junior.
Bangor Senior
K. Allen 5pts
N. Carton, J. Galloway, J. Kennedy 4½pts
Grading prizes for T. Brown, W. Ginn and M. McDowell 3½
Bangor Intermediate
H. Beckett 5½ pts
T. Beckett, S. Lynn, F. McDonald, P. Moclair 5pts
Grading prize A. Thompson 4½ pts
Under-16 Prizes for N. Tweedie, N. Todd 4pts
Under-13 Prizes for P. Carton jnr., R. Beckett 4pts
Media