Spring Blitz Chess Animates Groomsport
Last Thursday (7 March) Groomsport was buzzing with its monthly blitz chess tournament, a popular event that animates Groomsport Parish Hall with an exciting mix of local and visiting players. Reporter: Brendan Jamison.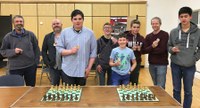 Report from Brendan Jamison - our on the scene reporter and intrepid controller.
Speed chess is a popular format enjoyed by all ages, with this event attracting players aged 12 up to 70. With 10 minutes on the clock over 7 rounds, everyone enjoyed battling it out across the board to walk away with one of the 9 medals on offer.

At the end of the night, QUB Law student Michael Sheerin was the dominant force with an undefeated score of 7/7, receiving a big round of applause as he was crowned Bangor March Blitz Champion. His tournament performance rating (TPR) was an impressive 1988 and Michael will look forward to the April rating list, after securing lots of juicy points from this event.

Meanwhile in 2nd Place, 16 year old Derriaghy teenager James Wong continued his superb run of prize-winning performances this season, ending the night on 5/7 as he scooped the silver medal.

With 4.5/7 Bangor's Mark Seidman walked away with bronze, the highest score by a club player. Richard Proctor also ended with the excellent score of 4.5 points but just missed out on a medal after tie-breaks.

For players with a blitz rating Under 1200, the Junior Championship was awarded to club treasurer James O'Fee with 4/7. The audience were delighted to see James scoop this award after returning to competitive chess in January 2019 after a break of many years. His return to league chess has been most welcome as his classic rating of 1638 makes him the second highest in the club and he brings a wealth of experience to the game, especially in the French Defence, an opening that served him well during the blitz.

Expert captain of the Bangor 1 league team, Mike McKimm won silver in the junior after a tough start to the tournament. Ending with a TPR of 1324, Mike was punching far above his weight and caused a lot of pressure to the higher rated opponents, in particular with his deployment of the Modern Defence.

The medal for 'Top Visiting Player' was won by Neil Gardner, Club Director of Lisburn Chess Club. Aside from being a great blitz player and chess coach for children, Neil is also wonderful at rounding up the troops and ferrying them to tournaments, in this case delivering Alan Hamilton and Michael Hood to their first Bangor Blitz. Hopefully they will return for many more tournaments in the future.

Bangor Grammar delivered 3 prize-winners at the blitz. 13 year old Zach Williamson continued his excellent progress to win the bronze medal in the Junior. Meanwhile his 12 year old friend Ben Toogood was awarded 'Top Newcomer' and 17 year old Adam Rushe was 'Top Teenager'.  All 3 of these players are now regular prize-winners at chess events and hopefully this will encourage more school pupils to attend the chess club and enjoy the varied programme of activities each week. The club meets every Thursday from 7:30pm to 11pm at Groomsport Parish Halls. With a very friendly and relaxed atmosphere, new players who are curious about local chess are invited to come along to explore the club. The season continues until the end of May.