Bangor Blitz 13th Feb 2020
Bangor continues to be more than just a chess club - regularly inviting players to talks and competitions. It held a FIDE rated Blitz on 13th February 2020.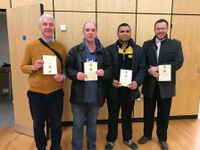 Congratulations to the 5 prize-winners at the FIDE-rated Blitz at Bangor Chess Club on Thursday 13 February 2020.


Champion: Gerard Obasi from QUB chess club

2nd: Christopher Dorrian from Greenisland

3rd: James O'Fee from Bangor

Best Visiting Player: Robert Brown from Lisburn

Best Newcomer: George Gamble from Newtownards

The next FIDE-rated blitz tournament is on Thursday 5 March 2020 at Bangor Chess Club. 7:45pm to 10:30pm. 9 rounds. Time control: 5+3.