Bangor Runs another Brilliant Blitz
Bangor chess club completed its Blitz Tournaments with a well attended FIDE rated event on March 5th 2020.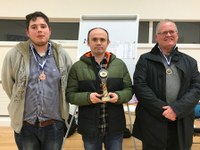 Congratulations to the 3 prize-winners at the last FIDE/UCU blitz of the season in Groomsport on Thursday 5 March.
Nick Pilkiewicz 7.5/9
2nd: Danny Roberts 7.5/9
3rd: Michael Sheerin 6.5/9

29 players competed in one open section. There was a great mix of ages from 7 year old Ethan Cole to Octogenarian Owen Wilson, the Spring chicken of Donaghadee! Players travelled from Lisburn, Belfast, Greenisland, Carrickfergus and Newtownards. Eddie Khanzharov from Ballyclare finished in 4th place with 6/9, just missing out on a prize.

The event is predicted to produce a debut FIDE rating for 5 more of local players when the new list is published on 1 April.
Many thanks to Brendan Jamison for controlling the tournament and to Bangor Chess Club for hosting this and the many events they have done this year. Brilliant talks and competitions.