New Year RapidPlay Championship 2019 Bangor
Bangor Chess Club Hosted a brilliant New Year Rapidplay Championship with over 40 players. At the excellent Groomsport Venue on thursday 3rd January.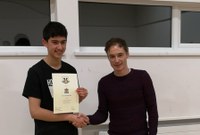 Controlled and organised by Brendan Jamison - another one of his excellent opportunities to play chess and enjoy an evening of fun.
We had 44 players one of our largest competitions. Playing in one section of 6 rounds.
The players being grouped for prizes into a Senior , Intermediate (Under 1400) and Junior Sections (Under 1000 ).
The prize winners won beautiful certificates provided by Brendan.
Some brilliant battles of chess. With a broad range of chess players. Plenty of social chat between rounds and wishes of happy new year. Hopefully this may become a annual tournament.
The Winners: James Wong won with a fantastic score - a full set of points 6 out of 6.
Champion: James Wong (6/6)
2nd Place: Mark Newman (5/6)
3rd Place: Danny Roberts (5/6)
Intermediate Champion: Pat McKillen (4/6)
Intermediate 2nd Place: Adam Rushe (4/6)
Intermediate 3rd Place: Steven Cullen (3.5/6)
Junior Champion: Louie McConkey (4/6)
Junior 2nd Place: Paul Anderson (3/6)
Junior 3rd Place: Gary Zachary (3/6)
Top Female Player: Clare Finnegan
Top Teenage Player: Aaron Wafflart (3.5/6)
Top Child Player: Ben Toogood (3/6)
Top Visting Newcomer: Abe Lorber (3.5/6)
Top Bangor Newcomer: Callum Magennis
Photos from the competition.
Photos of the Winners
| | |
| --- | --- |
| | |
| Champion - James Wong (6/6) | 3rd Place Danny Roberts (5/5) |
| Intermediate Champion - Pat McKillen (4/6) | 2nd Intermediate - Adam Rushe (4/6) |
| 3rd Intermediate - Steven Cullen (3.5/6) | |
| Junior Champion - Louie McConkey (4/6) | 2nd Junior - Paul Anderson (3/6) |
| 3rd Junior - Gary Zachary (3/6) | |
| Top Female Player - Clare Finnegan | Top Teenage Player - Aaron Wafflart (3.5/6) |
| Top Child Player - Ben Toogood (3/6) | Top Visiting Newcomer - Abe Lorber (3.5/6) |