FIDE Rated City of Bangor Congress 23 Sept 2023
Bangor Chess Club continues to deliver top tournaments and brilliant opportunities to play chess. Brendan Jamison reports on Saturdays event.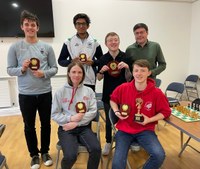 Groomsport delivers another cracking day of rapid chess!

Saturday 23rd Sept 2023

The 6 prize-winners from today's FIDE-rated Bangor Congress! What a happy bunch of super talented players!

Champion: Adam Rushe (Bangor Chess Club) 5.5/6 TPR = 1885

2nd Place: Tom Grey (QUB Chess Club) 5/6 TPR = 1768

3rd Place: Jade Sandrey (QUB Chess Club) 4/6 TPR = 1506

Junior Champion: Jake Patterson (Strand Chess Club) 4.5/6 TPR = 1686

Junior 2nd: Aashay Kher 4/6 TPR = 1656

Junior 3rd: Robert Rolleston (Greenisland FC Chess Club) 3.5/6 TPR = 1514

This was event 3 of 10 in the FIDE rated NI Rapid Grand Prix. Event 4 is on Saturday 14th October at 2 Royal Ave Cultural Centre. See you there for more chess magic!
Brendan Jamison.